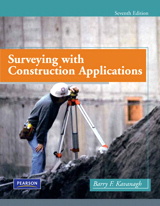 Description
For undergraduate courses in Civil Engineering, Civil Engineering Technology, Survey Engineering, and Resources Engineering and Technology.
Known for its state-of-the-art coverage and clear, concise approach, Surveying with Construction Applications, Seventh Edition covers the latest advances and foundational principles of surveying. Emphasizing instrumentation technology, field data capture, and data-processing techniques, this text highlights real-world applications of surveying to the construction and engineering fields. Reflecting additional complexities in electronic distance measurement, the order of presentation of surveying topics has been revised in this edition. Revisions and updates focus on topics where the technology and applications are still evolving.
Table of Contents
PART I: SURVEYING PRINCIPLES
1. Surveying Fundamentals
2. Leveling
3. Distance Measurement
4. Introduction to Total Stations and Theodolites
5. Total Station Operations
6. Traverse Surveys and Computations
7. Satellite Positioning
8. An Introduction to Geomatics
9. Horizontal Control Surveys
PART II: CONSTRUCTION APPLICATIONS
10. Machine Guidance and Control
11. Highway Curves
12. Highway Construction Surveys
13. Municipal Street Construction Surveys
14. Pipeline and Tunnel Construction Surveys
15. Culvert and Bridge Construction Surveys
16. Building Construction Surveys
17. Quantity and Final Surveys
Appendix A: Trigonometry and Coordinate Geometry Review
Appendix B: Surveying and Mapping Internet Web Sites
Appendix C: Glossary
Appendix D: Typical Field Projects
Appendix E: Answers to Selected Problems
Appendix F: Steel Tape Corrections
Appendix G: Early Surveying
Appendix H: Illustrations of Maching Guidance and Control Equipment; and Various Types of Data-Capture Techniques
Purchase Info ?
With CourseSmart eTextbooks and eResources, you save up to 60% off the price of new print textbooks, and can switch between studying online or offline to suit your needs.
Once you have purchased your eTextbooks and added them to your CourseSmart bookshelf, you can access them anytime, anywhere.
Buy Access
Surveying with Construction Applications, CourseSmart eTextbook, 7th Edition
Format: Safari Book
$69.99 | ISBN-13: 978-0-13-504677-7