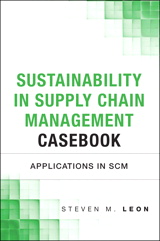 Description
This reference is a comprehensive collection of original case studies on building sustainability into the supply chain. An ideal resource for graduate-level and executive courses in sustainability, operations management, and supply chain/logistics, The Sustainability in Supply Chain Management Casebook covers a wide spectrum of social, economic and environmental issues; as well as new areas such as reverse logistics and closed-loop supply chains. Steven Leon covers these and other specific topics: strategy, implementation, decision making, transportation, supplier relationships, collaboration, lean and continuous improvement, finance and economics, worker safety and rights, procurement, production, delivery, packaging, logistics, and global supply chains. He frames these case studies with authoritative introductory material, and offers corresponding teaching notes and Q and A sections that make this an even more useful instructional resource.
Table of Contents
Part 1 Disaster Response: Social and Financial
Impacts 1
Chapter 1 The Armenia Earthquake: Grinding Out an Effective Disaster Response in Colombia's Coffee Region
Alfonso Pedraza Martinez, INSEAD; Catalina Estrada Mejia,
UniAndes School of Management; Orla Stapleton INSEAD;
Luk Van Wassenhove, INSEAD 3
Introduction 4
The Earthquake 4
The Relief Chain 6
Planning and Preparedness 6
Assessment 8
Resource Mobilisation 9
Financial 9
Human Resources 9
Organisational Set-up 10
Procurement and Donations 12
Transportation 13
Tracking and Tracing 15
Stock Asset Management 15
Extended Relief to Beneficiaries 17
Monitoring, Evaluation and Reporting 18
Coordination and Collaboration 19
Conclusion 21
Appendix 1 22
Glossary of Organisations 22
Chapter 2 Resilient Response and Recovery at Western Digital: After the Thai Flood
Joe Bunya, Western Digital; Christopher Tang,
UCLA 27
Thailand Floods in 2011 30
Western Digital in Thailand 31
Before the Flood–Identifying, Assessing, and
Mitigating Risks 33
During the Flood–Resilient Response 34
After the Flood–Speedy Recovery 37
The Sun Shines Again 38
Chapter 3 Global Effect of a Natural Disaster on a Lean Supply Network
Mark Dolsen, Wayne State University and Tokai Rika Group
North America-Quality Safety Systems Company (TRQSS),
Dr. Ratna Babu Chinnam and Dr. Kenneth Chelst, Wayne
State University 43
Breaking News–Friday, March 11, 2011 43
Background of TRQSS, Inc. 46
Assessment of the Supply Base 48
Trouble from the Other End of the Chain 49
Preserving the Culture in a Downturn 52
What's Next? 55
Chapter 4 Honda Automobile (Thailand) and Its Supply Chain Disruption
Kraiwinee Bunyaratavej, Wesley College 63
Honda Automobile (Thailand) History 63
The Big Flood 64
Financial Impact 66
Other Plants 69
Part 2 Organizational Change, Environmental
Sustainability, and Financial Analysis 71
Chapter 5 Going Green: The Pfizer Freiburg Energy Initiative (A)
Sam Aflaki and Paul Kleindorfer, INSEAD 73
Pfizer and the Pharmaceutical Industry 74
Becker's Portfolio: The Freiburg Energy Master Plan 77
The Wood-Pellet Boiler Project 82
Role of the Portfolio of Projects within Pfizer's
Sustainability Agenda 86
The Decision 88
Appendix 1 89
Kyoto Protocol, CO2 and Emissions Trading 89
Chapter 6 Sandvik Coromant Recycling Concept
Gal Raz and Michel Schlosser, University of Virginia 97
Industry Overview 98
Tungsten and Cobalt 100
Company Overview 101
Sandvik Tooling's Supply Chain 103
Manufacturing 103
Logistics 103
R&D and New Product Development 103
Multibranding 104
Cooperation with Customers 104
Quality 105
Organization and Culture 105
Organization 105
Culture 105
The CRC at Sandvik Tooling 106
Cemented Carbide Recycling 106
History 107
The Reverse Supply Chain 108
In-house or Outsource? 109
Environmental Impact 110
Pricing of Scrap 110
Local Sales Organizations: The U.S. Example 110
Chapter 7 HeidelbergCement: Technology Choice Under Carbon Regulation
David Drake, Paul Kleindorfer, and Luk Van Wassenhove,
INSEAD 123
History, Growth and Landscape 125
The History of HeidelbergCement 126
The Competitive Landscape 128
The Emergence of a Carbon Economy 129
From Kyoto to Carbon Credits 129
The European Union Emissions Trading Scheme 131
Emissions Regulation in European Cement 133
Cement Operations and Carbon Impacts 136
Kiln Operations 136
Fossil, Alternative and Biomass Fuels 137
Cement Blending and Clinker Substitution 140
On the Horizon–Carbon Capture and Storage 142
The Benelux Cluster 144
A Question of Impact and Survival 146
Chapter 8 Electronic Waste: What to Do with It?
Steven Leon, University of Central Florida 161
A Day at the Office 161
Technology Changes 162
Repercussions of Changing Demand
for CRTs 163
Industry Responsibility 164
Government Intervention 165
Supplier Oversight 167
Good News 169
Part 3 Sustainability Throughout the Supply Chain 171
Chapter 9 Better Tomorrow at Sodexo North America
Jan Bell, S. Sinan Erzurumlu, Holly Fowler,
Babson College 173
Introduction 173
Sodexo: Corporate Overview 175
Supply Management Group 177
The Better Tomorrow Plan 179
Sustainability Strategy and Priorities at Sodexo
North America 180
"We Do" Protect the Environment
at NORAM 183
Energy and Emissions 184
Water and Effluents 186
Local, Seasonal, or Sustainably Grown or
Raised Products 187
Sustainable Fish and Seafood 188
Moving Forward 190
Chapter 10 GroBaby Foods: Green Sourcing
Sheneeta W. White, University of St. Thomas 197
Introduction 197
Company Background 198
Competitive Pressures 199
Infant Purée Production 200
The Supply Chain 200
The Sourcing Strategy 201
Developing a Green Sourcing Strategy 203
The Challenge 204
Discussion Questions 205
Chapter 11 Reducing Pollution Through Green Logistics
Tom McNamara, ESC Rennes School of Business and
Erika Marsillac, Old Dominion University 209
Sources 213
Part 4 Social Sustainability Through Innovation 215
Chapter 12 Bosch: Creating Innovations Through Active Collaborations
Marina Mattera, Universidad Europea de Madrid 217
The Base of the Pyramid (BoP) 217
Open Innovation 220
Open Innovation: Robert Bosch GmbH 222
Continued Financial Success 222
Business Sectors 224
Automotive Industry 224
Industrial Technology 225
Consumer Goods and Power Tools 225
Social Responsibility 226
Innovation Production: R & D and Operations 227
Bosch's R & D Infrastructure 228
How to Proceed When Conducting R & D and
Operations 229
Collaborations 231
Innovation Production: Processes and Products 233
Processes and Procedures 233
Products 235
Conclusion 239
Questions 240
References 241
Chapter 13 Max Foundation (A): Saving Children's Lives Through Business Model Innovation
Martijn Thierry, Strategy Consultant and Luk Van
Wassenhove, INSEAD 243
I. Creating Something Positive Out of a Tragedy 244
II. The Vision and the Search 245
III. Building the Base in the Netherlands 247
IV. The First Steps in Bangladesh: Learning While Doing 248
V. Challenges at Home 251
VI. Increasing Presence in Bangladesh 253
VII. Envisioning the Next Step 255
Max Foundation: Saving Children's Lives
Through Business Model Innovation (A) and (B) 257
Appendix 1 264
Pictures of Joke and Steven in Bangladesh 264
Appendix 2 266
Additional Information on the Implementation
Partners in Bangladesh 266
Overview .266
Some Partner Specific Information 267
Chapter 14 Max Foundation (B): What Is the Best Route Forward?
Martijn Thierry, Strategy Consultant and Luk Van
Wassenhove, INSEAD 269
I. Finding Partners for Growth 270
II. Measuring and Analysing Impact for Better Performance 271
III. Developing One Marketing Strategy for a Specific Donor Segment 273
Chapter 15 NH: Innovation and Knowledge Production Through Active Stakeholder Management
Marina Mattera, Universidad Europea de Madrid 275
Creation of Innovations 275
Knowledge Production and Diffusion
Life Cycle 277
Tourism Industry 279
NH Hoteles History Overview 281
Corporate Profile: Mission, Vision, and Values 283
Knowledge Life Cycle at NH 284
Business Process Environment 288
Questions 295
References 296
Index 299