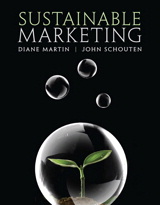 Description
For courses in Sustainable Marketing or as a supplement to marketing courses that include sustainability as a focus.

A lasting approach to marketing.

As the engine that drives the global economy, marketing leaves an enormous footprint on the environment and society. To help readers make a lasting impression in their marketing efforts, Martin/Schouten provides the concepts behind valuable—and lucrative—sustainable marketing strategies.

Table of Contents
Chapter 1: An Introduction to Sustainable Marketing
Chapter 2: Sustainable Marketing Strategy
Chapter 3: Ethical Dimensions of Sustainable Marketing
Chapter 4: The Marketing Environment and Processes
Chapter 5: Consumer Behavior and Sustainable Marketing
Chapter 6: Measurement and Research for Sustainable Marketing
Chapter 7: Market Segmentation, Targeting, and Positioning for Sustainability
Chapter 8: Global Problems, Global Opportunities
Chapter 9: Sustainable Products and Services
Chapter 10: Sustainable Branding and Packing
Chapter 11: Marketing Channels: Sustainability in the Value Chain
Chapter 12: Sustainable Pricing
Chapter 13: Sustainable Marketing Communication
Chapter 14: Sustainability in the Promotion Mix—Methods, Media, and Customer Relationships
Chapter 15: Digital Media and Sustainable Marketing


Purchase Info ?
With CourseSmart eTextbooks and eResources, you save up to 60% off the price of new print textbooks, and can switch between studying online or offline to suit your needs.
Once you have purchased your eTextbooks and added them to your CourseSmart bookshelf, you can access them anytime, anywhere.
Buy Access
Sustainable Marketing, CourseSmart eTextbook
Format: Safari Book
$31.99 | ISBN-13: 978-0-13-611712-4