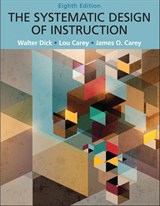 Description
For courses in Computer-Based Instructional Design (CORE / Instructional Technology) and Instructional Design (Ed Psych / Tests & Measurement)
A clear introduction to the fundamentals of instructional design and the concepts and procedures necessary for designing, developing, and evaluating instruction for all delivery formats.
This text simply and clearly introduces students to the fundamentals of instructional design—the concepts and procedures they need to know in order to effectively analyze, design, develop, and formatively evaluate instruction. This is not a textbook to be memorized, but rather a learning-by-doing resource to be used by students for creating their own sound, effective instruction. In it readers learn a systematic, thoughtful, inquiry-based approach to creation, which in turn helps ensure the success of students in their charge.
Designed to aid learning in several important ways, including an intuitive chapter organization, a model that presents research illustrated with applications, contemporary design examples, sample rubrics and exercises, and annotated references.

Emphasizes learning by doing with practical applications and instructional supports provided throughout.
Table of Contents
Chapter 1: Introduction to Instructional Design
Chapter 2: Identifying Instructional Goals Using Front-End Analysis
Chapter 3: Conducting a Goal Analysis
Chapter 4: Identifying Subordinate and Entry Skills
Chapter 5: Analyzing Learners and Contexts
Chapter 6: Writing Performance Objectives
Chapter 7: Developing Assessment Instruments
Chapter 8: Planning the Instructional Strategy: Theoretical Bases
Chapter 9: Planning the Logistics and Management for the Instructional Strategy:
Chapter 10: Developing Instructional Materials
Chapter 11: Designing and Conducting Formative Evaluations
Chapter 12: Revising Instructional Materials
Chapter 13: Designing and Conducting Summative Evaluations
Purchase Info ?
With CourseSmart eTextbooks and eResources, you save up to 60% off the price of new print textbooks, and can switch between studying online or offline to suit your needs.
Once you have purchased your eTextbooks and added them to your CourseSmart bookshelf, you can access them anytime, anywhere.
Buy Access
Systematic Design of Instruction, The, CourseSmart eTextbook, 8th Edition
Format: Safari Book
$40.99 | ISBN-13: 978-0-13-359924-4