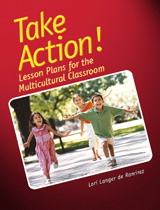 Description
Take Action! Lesson Plans for a Multicultural Classroom is for all teachers striving to meet the needs of students in today's diverse K-12 classrooms. Take Action! offers 27 practical step-by-step multicultural lesson plans organized around seven microcultures: culture and identity, race and ethnicity, abilities and disabilities, religion, socioeconomics and class, language, and gender and sexuality.
Each chapter includes three lesson plans at three different grade levels (elementary, middle, and secondary). Each lesson plan is presented with an accessible and predictable format, outlines the content areas addressed, provides a recipe-stype list of materials for all the activities in the lesson plan and action projects, and so much more. Connections to national professional standards and benchmarks for K-12 education as outlined by the Mid-continent Research for Education Learning are also included in every lesson plan.
Table of Contents
Chapter 1 — Doing Multicultural Education
Lesson #1: Cinderella Around the World
Lesson #2: The Breadth and Depth of "Multicultural"
Lesson #3: The Universal Declaration of Human Rights
Chapter 2 — Culture and Identity
Lesson #4: Name Stories
Lesson #5: Creating Culture
Lesson #6: School Uniforms and Freedom of Expression
Chapter 3 — Race and Ethnicity
Lesson #7: Changing Colors
Lesson #8: Black Soldiers in the Civil War
Lesson #9: The 14th Amendment and Our Schools
Chapter 4 — Abilities and (Dis)Abilities
Lesson #10: FDR's Secret
Lesson #11: Speaking and Writing About People with Disabilities
Lesson #12: Including Students With Disabilities
Chapter 5 — Religious Beliefs
Lesson #13: Celebrating Faith
Lesson #14: Geometry and Tessellation in Islamic Art
Lesson #15: To Pledge or Not To Pledge
Chapter 6 — Socioeconomics and Class
Lesson #16: We Are All in the Dumps with Jack and Guy
Lesson #17: Class and Health: You Are What You Eat
Lesson #18: Advertising and Social Class
Chapter 7 — Language and Communication
Lesson #19: Talking with Your Body
Lesson #20: Accent on Speech
Lesson #21: The Genglish-Only Movement
Chapter 8 — Gender and Gender Roles
Lesson #22: Bursting Genderalizations
Lesson #23: Rosalind Franklin: The Other Discoverer of DNA
Lesson #24: Gender in the Media: Implicit Messages
Chapter 9 — Sexual Orientation
Lesson #25: Families of All Kinds
Lesson #26: Am I Blue?
Lesson #27: Learning Social Roles