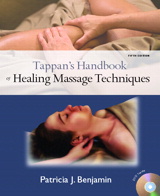 Description
This pioneering book in massage therapy provides basic information on the art and science of effective healing massage techniques in quick-learn, easy-to-understand terms. Whether you're a licensed massage therapy practitioner, health related professional, or just interested in basic massage therapy techniques, this is the book for you! The authors carefully examine the foundations of healing massage, western massage techniques, contemporary massage including myofascial techniques, trigger points, lymphatic drainage massage, foot reflexology, Asian bodywork therapy and applications of massage. New to the fifth edition are Practice Sequences that are step-by-step suggested example applications of the techniques described in the book. Each Practice Sequence is demonstrated in full, vibrant detail on the DVD that accompanies this text. So that readers can track their progress, the DVD, as well as Appendix D, provides Performance Evaluation Forms for every Practice Sequence.
Table of Contents
TAPPAN'S HANDBOOK OF HEALING MASSAGE TECHNIQUES
Brief Contents
Part I Foundations
Chapter 1 Healing Massage–A Wellness Perspective
Chapter 2 A History of Massage
Chapter 3 The Effects and Benefits of Massage
Chapter 4 Clinical Applications of Massage
Chapter 5 Endangerment Sites, Contraindications, Cautions
Chapter 6 Guidelines for Giving Massage
Part II Western Massage
Chapter 7 Western Massage Techniques
Chapter 8 Joint Movements
Chapter 9 Full-Body Western Massage
Chapter 10 Regional Applications of Massage–Upper Body
Chapter 11 Regional Applications of Massage–Lower Body
Chapter 12 Hydrotherapy/Thermal Therapy
Part III Contemporary Massage and bodywork
Chapter 13 Myofascial Massage
Chapter 14 Trigger Point Therapy
Chapter 15 Lymphatic Facilitation
Chapter 16 Reflexology
Chapter 17 Polarity Therapy
Part IV Forms of Asian Bodywork
Chapter 18 Asian Bodywork Therapy–Theory
Chapter 19 Acupressure Massage Integration
Chapter 20 Qi Gong for Self-Care
Part V Special Populations
Chapter 21 Sports and Fitness
Chapter 22 Mother and Child
Chapter 23 Healthy Aging
Chapter 24 Terminally Ill and Dying
Chapter 25 Seated Massage in the Workplace
Appendices
Appendix A 25 Forms of Therapeutic Massage and Bodywork
Appendix B Organizations and Publications
Appendix C Massage Licensing Laws in North America
Appendix D Performance Evaluation Forms
Appendix E Health History Forms
Appendix F List of Figures and Tables
Appendix G References and Additional Resources
Interactive Glossary
Index
Purchase Info
ISBN-10: 0-13-514223-7
ISBN-13: 978-0-13-514223-3
Format: Book
Digital Choices ?
MyLab & Mastering with Pearson eText is a complete digital substitute for a print value pack at a lower price.
eTextbook ?
With CourseSmart eTextbooks and eResources, you save up to 60% off the price of new print textbooks, and can switch between studying online or offline to suit your needs.
Once you have purchased your eTextbooks and added them to your CourseSmart bookshelf, you can access them anytime, anywhere.