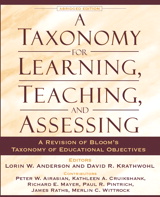 Table of Contents
List of Tables and Figures.
Preface.
Foreword.
SECTION I: THE TAXONOMY, EDUCATIONAL OBJECTIVES AND STUDENT LEARNING.
1. Introduction.
2. The Structure, Specificity, and Problems of Objectives.
SECTION II: THE REVISED TAXONOMY STRUCTURE.
3. The Taxonomy Table.
4. The Knowledge Dimension.
5. The Cognitive Process Dimension.
SECTION III: THE TAXONOMY IN USE.
6. Using the Taxonomy Table.
7. Introduction to the Vignettes.
8. Nutrition Vignette.
9. Macbeth Vignette.
10. Addition Facts Vignette.
11. Parliamentary Acts Vignette.
12. Volcanoes? Here? Vignette.
13. Report Writing Vignette.
14. Addressing Long-standing Problems in Classroom Instruction.
APPENDICES.
Appendix A: Summary of the Changes from the Original Framework.
Appendix B: Condensed Version of the Original Taxonomy of Educational Objectives: Cognitive Domain.
References.
Credits.
Index.
Additional Course Materials