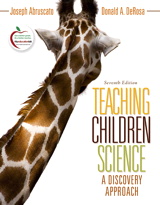 Description
Science is a quest for explanations. This popular text continues to encourage teachers to help their students learn through discovery, while also providing content on the latest techniques in science teaching. This edition has been thoroughly revised and features a new co-author, Dr. Donald DeRosa of Boston University and a larger trim size and paperback binding for a fresher, more open feel.
The book continues to use its well-regarded pedagogy to help students to learn science. They are:
A Look Ahead–topics to be discussed in the chapter

Make the Case–A reflective exercise that can be done individually or as a group.

Summary–A review of the main ideas in the chapter.

Going Further–Learning activities for further study

Resources for Discovery Learning–A listing of websites, books, and articles for further reference.
This establishes a solid foundation in science pedagogy upon which they can build in later years.
The 5 E's of Learning and Universal Design for Learning have been added to this edition and every chapter correlates to the NSE Content Standards. A new chapter on using technology in the classroom continues to build on the authors' belief that technology can enhance learning in the science classroom. The new package includes links to video and web resources on the MyEducationLab website.
New To This Edition:
NEW! Features a new co-author in this edition–Dr. Donald DeRosa of Boston University.
NEW! A new paperback binding and larger 8 ½'' x 11'' trim size gives the book a fresher and more open feel.
NEW! Includes a new chapter (Chapter 8) Using Technology to Enhance Science Learning.
NEW! Gives an increased focus on technology/multimedia, engineering, and energy conservation–Includes a new Part IV on The Technological Sciences and more earth-friendly and "green" science activities in this edition.
NEW! Fully integrated package--Each chapter correlates to video and web resources within the MyEducationLab website.
The MyLab series from Pearson offers innovative homework, student assessment, and multimedia instructional tools designed to enrich the learning experience and improve course outcomes. With detailed gradebook and customization options, instructors can easily monitor student progress and save valuable time.
NEW! Includes The 5 E's Learning Cycle--The 5 E's learning cycle is an instructional design model that presents a framework for constructivist learning theories that can be effectively used in teaching science.
Engage--The task is introduced. Using connections to past learning, demonstrations of an event, and asking pointed questions, the teacher can spark the students' interest right away.

Explore–While the teacher facilitates, students take part in hands-on activities that allow them to work with materials. Questioning, sharing and communication with other learners should be encouraged during this stage.

Explain–Here the focus is on analysis. Students are encouraged to put observations, questions, hypotheses, and experiences into language. Communication between students and groups will aid student learning. Again, the teacher is the facilitator, leading discussions, asking questions, giving definitions, of helping students find the right words to describe their experiences.

Elaborate/Extend--Now students should be encouraged build and expand upon what they have learned so far, making deductions and inferences. They can apply what they have learned to real world situations.

Evaluate--Evaluation should be ongoing and should occur at all stages, in order to determine that learning objectives have been met. The teacher can use any assessment tool that they deem appropriate. At this time the teacher should encourage further study that builds upon what has been learned.
NEW! Universal Design for Learning will be incorporated in Chapter 9 Adapting the Science Curriculum-- Universal design is an approach to designing course instruction, materials, and content to benefit students of all learning styles.
Universal design provides equal access to learning, not simply equal access to information. This design model allows the student to control the method of accessing information while the teacher monitors the learning process and initiates any beneficial methods. Although this design enables the student to be self-sufficient, the teacher is still responsible for imparting knowledge and facilitating the learning process. The classroom becomes a positive learning experience for all students while minimizing the appearance that special accommodations are being made for any individual student.
NEW! Reorganizes Parts II through IV to be more reader-friendly--The "A" and "B" subchapters of the previous edition will be broken out into content chapters and activities chapters.
NEW!
Teaches novice instructors how to differentiate among good and bad science kits and how to utilize them effectively in the classroom.
Table of Contents
Part I -- Strategies and Techniques
1 Inquiry: The Path, Discovery: The Destination
2 Constructing Knowledge and Discovering Meaning
3 The Inquiry Process Skills
4 Planning and Managing
5 Strategies and QuickChecks
6 Assessment of Understanding and Inquiry
7 Integrating Science
8 NEW - Using Technology to Enhance Science Learning
9 Adapting the Science Curriculum
Part II -- The Earth/Space Sciences
10 Earth and Space Sciences
11 The Cosmos
12 Putting the Content into Action! Earth Space/Science Lesson Ideas
Part III -- The Life Sciences
13 Living Things
14 The Human Body
15 Putting the Content into Action! Living Science Lesson Ideas
Part IV -- The Physical Sciences
16 Matter and Motion
17 Energy and Machines
18 Putting the Content into Action! Physical Sciences Lesson Ideas
Part V -- The Technological Sciences
19 Technology
20 Engineering
21 Putting the Content into Action! Technological and Engineering Lesson Ideas