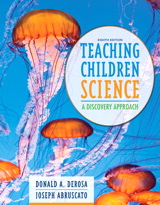 Description
Note: The Enhanced eText features are only available in the Pearson eText format. They are not available in third-party eTexts or downloads, such as CourseSmart.
For courses in K-8 Science Methods.
The Eighth Edition of Teaching Children Science provides comprehensive coverage of elementary science methods focusing on "what to teach" and "how to teach it." Using Abruscato's well known "discovery approach", the book includes all three major components of teaching science—methods, content, and activities—organized in a format that allows teachers ultimate flexibility.
Organized in four parts, the first nine chapters of the book deal with the major topics that shape what teachers will teach and how they will teach it (the methods.) In Parts Two Through Four the Methods, Content, and Activities for Teaching Science and Technology Units are addressed. Each part opens with an introduction that provides background information about the field of science at hand: the earth/space sciences (Part Two), the life sciences (Part Three), or the physical sciences (Part Four).
New to this Edition:
Next Generation Science Standards (NGSS) are integrated throughout the book.
Common Core State Standards (CCSS) are addressed in Chapter 7's discussion of integrating science with other disciplines.
Users of previous editions will notice restructuring of chapters 3 and 4 to better unify theory and practice as well as a new lesson example that models how the NGSS might inform lesson planning.
Table of Contents
Part One Strategies and Techniques
¿B> Chapter 1 Using Science to Teach Thinking
¿nbsp; Chapter 2 Constructing Knowledge and Discovering Meaning: How Children Learn Science
¿B> Chapter 3 Science Practices and Inquiry Process Skills
¿B> Chapter 4 Planning and Managing
¿B> Chapter 5 Strategies and QuickChecks
¿B> Chapter 6 Assessment of Understanding and Inquiry
¿B> Chapter 7 Integrating Science
¿B> Chapter 8 Using Technology to Enhance Science Learning
¿B> Chapter 9 Adapting the Science Curriculum
Part Two The Earth/Space Sciences
¿nbsp; Chapter 10 Earth's Surface, Atmosphere, and Weather
¿B> Chapter 11 The Cosmos
¿nbsp; Chapter 12 Earth/Space Science Lesson Ideas
Part Three The Life Sciences
¿nbsp; Chapter 13 Living Things
¿nbsp; Chapter 14 The Human Body
¿nbsp; Chapter 15 Life Sciences Lesson Ideas
Part Four The Physical Sciences
¿nbsp; Chapter 16 Matter and Motion
¿nbsp; Chapter 17 Energies and Machines
¿B> Chapter 18 Physical Science Lesson Ideas
¿B> For the Teacher's Desk
Your Classroom Enrichment Handbook
Your Science Source Address Book