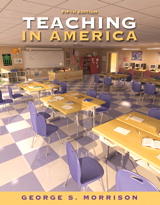 Description
Teaching in America, 5/e, is a hands-on, practical text that provides preservice teachers with comprehensive and current information about teaching in today's diverse American classrooms.
The Fifth Edition promises to be the most dynamic and practical to date. With a complete redesign; a host of new research, features, and exercises; as well as a new feature box designed specifically to show pre-service teachers how use observation effectively, this text is sure to draw attention beyond its steady and loyal base. Its "working-text" style continues to provide preservice teachers with extensive opportunities to interact with the text while establishing both the foundations of American education and a clear picture of the realities of contemporary teaching. Its increased emphasis on accountability woven throughout the text and the marginal references to INTASC standards raise the readers' awareness of key initiatives in education in the 21st century.
Table of Contents
Part One: Teachers and Schools
Ch. 1: What it Means to Be a Teacher
What Makes a Good Teacher?
How Are Teachers Held Accountable Today?
What Do Teachers Do?
Why Do Teachers Teach?
How Is Teaching Changing?
Ch. 2: Teaching as a Profession
Why Choose Teaching as Your Profession?
What Are The Dimensions of Professionalism and Why Are They Important?
How Do You Develop a Philosophy of Education?
What Opportunities Exist for Professional Development?
How Are Reform Movements Changing Teacher Education?
Who Are Today's Teachers?
What Job Opportunities Do You Have As A Teacher?
Part 2: Students, Families, and Communities
Ch. 3: How Schools Are Organized and Connected to Communities
What is the Purpose of Schooling?
How Are Public Schools Organized?
What Is It Like to Teach in Urban, Rural, and Suburban Schools?
C Ch. 4: Teaching Diverse Learners I: Multiculturalism and Gender in Today's Classrooms
America -- A Nation of Diverse Learners
How Do Racial and Ethnic Diversity Affect Teaching and Learning?
What is Multicultural Education?
How Does Language Influence Teaching and Learning?
How Does Gender Affect Teaching and Learning?
Ch. 5: Teaching Diverse Learners II: Academically Diverse Learners in Today's Classrooms
Do Federal and State Law Provide for the Education of Exceptional Learners?
What Are Mainstreaming and Inclusion?
How Can Professional Collaboration Enhance Education in Inclusive Classrooms?
How Can You Teach Exceptional Learners in Your Classroom?
What Factors Place Students at Risk and Affect Teaching and Learning?
What Can Schools Do to Help Students At Risk?
Ch. 6: Partners in Learning: Parents, Families, and the Community
How Do Parents, Families, and Communities Influence Teaching and Learning?
What Are Family —Centered Programs?
What Is Parent Involvement?
What Educational Reforms Are Promoting Greater Parent Empowerment?
How Can You Use the Community to Teach?
Part 3: Foundations of American Education
Ch. 7: The Politics of American Education
What Forces Influence School Governance and Finance?
How Is Education Governed?
How Are Schools Held Accountable?
How Are Schools Governed and Administered?
How Is Education Funded?
What Issues of Governance and Finance Affect Education Today?
Ch. 8: Education and School Law
What Is the Basis of School Law?
What Are the Legal Responsibilities of States and School Districts?
What Are Your Legal Responsibilities as a Teacher?
What Are Your Legal Rights as a Teacher?
What Are Students' Legal Rights?
What Are Parents' Rights and Responsibilities?
Ch. 9: Historical and Philosophical Influences on Teaching and Learning
What Was Schooling Like in the American Colonies?
How Did Nationhood Change American Education?
How Did American Education Change after the Civil War?
How Did American Education Change after World War II?
How Is Philosophy Relevant for Classroom Teachers?
How Do the Branches of Philosophy Relate to Education
What Are the Major Philosophies of Education
What are the Implications of Philosophies of Education for You and Your Students?
Part 4: Assessing and Fostering Teaching and Learning
Ch. 10: Standards, Assessment, and Accountability in Education Today
How Are Standards Changing Teaching and Learning?
How is Standards-Based Education Affecting Teaching and Learning?
How is Testing Changing Teaching and Learning?
Ch. 11: Teaching in Schools Today
What is the Role of Curriculum in Education?
What Is the Contemporary Curriculum Like?
How Do Teachers Plan and Deliver Instruction?
What Are Some Models of Direct Instruction?
What Are Some Models of Nondirect Instruction?
Curriculum Influences for the Twenty-First Century
What Works in the Classroom?
Ch. 1 Ch. 12: Technology, Teaching, and Learning
What is Technology?
What is Technological Literacy?
How Has Technology Changed Teaching and learning?
What Are the Advantages and Disadvantages of Digital Learning?
What Is Considered Responsible Use of Technology?
Ch. 13: Your First Year as a Teacher
What Can You Do to Prepare for Teaching?
How Can You Find Your First Teaching Position?
How Can You Benefit from Beginning Teacher Programs?
How Can You Survive and Grow in Your First Year?
Additional Course Materials
Purchase Info
ISBN-10: 0-205-57070-4
ISBN-13: 978-0-205-57070-6
Format: Book
This title is currently unavailable on myPearsonStore.