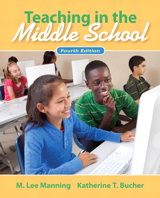 Description
Based on the belief that effective middle school teaching practices must be developmentally responsive, this core text provides an insightful introduction to young adolescents ages 10 to 15, and to the middle school and middle school movement. Coverage balances the practical and the theoretical to provide all of the essential knowledge today's middle school teacher needs concerning the development and characteristics of adolescents; principles, goals, and attributes of the middle school movement; and, organization, curricula, strategies, and concepts of contemporary middle schools. The authors emphasize the diversity of adolescents - in development, culture, gender, and sexual orientation - and the importance that these differences portend for educational experiences and guidance efforts.
Table of Contents
Part I Understanding Middle Schools and Young Adolescents
Chapter 1: Middle Schools Today–Concepts and Teaching
Chapter 2: Young Adolescents–Development and Issues
Chapter 3: Guiding Young Adolescents–Teachers and Counselors
Part II Developing the Curriculum and Organizing the School
Chapter 4: Middle School Curriculum–Core and Related Domains
Chapter 5: Middle School Curriculum–Integrated and Exploratory
Part III Planning, Implementing, and Assessing Instruction
Chapter 6: Planning Instruction–Appropriate and Interdisciplinary
Chapter 7: Implementing Instruction–Methods and Materials
Chapter 8: Assessment of Learning–Methods and Issues
Chapter 9: Managing Young Adolescents and Environments–Strategies and Techniques
Part IV Working with External Communities
Chapter 10: Parents, Families, and Community Members–Partners and Resources
Epilogue: Middle Schools of the Future
Glossary
References
Name Index
Subject Index
Purchase Info ?
With CourseSmart eTextbooks and eResources, you save up to 60% off the price of new print textbooks, and can switch between studying online or offline to suit your needs.
Once you have purchased your eTextbooks and added them to your CourseSmart bookshelf, you can access them anytime, anywhere.
Buy Access
Teaching in the Middle School, CourseSmart eTextbook, 4th Edition
Format: Safari Book
$48.99 | ISBN-13: 978-0-13-248773-3