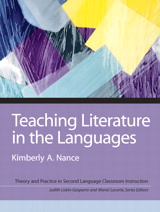 Description
Intended for current and future foreign language teaching professionals, volumes in the Theory and Practice in Second Language Classroom Instruction series examine issues in teaching and learning in language classrooms. The topics selected and the discussions of them draw in principled ways on theory and practice in a range of fields, including second language acquisition, foreign language education, educational policy, language policy, linguistics, and other areas of applied linguistics. Teaching Literature in the Languages delves into the various aspects of teaching literature successfully from planning to engaging students.
Table of Contents
Unit One Classroom and cultural contexts for the teaching of literature
1 Why should language students study literature?
2 What do language students bring to the literature classroom? Knowledge, skills, attitudes, and expectations
3 What do teachers bring to literature classes in the languages? Knowledge, skills, attitudes, and expectations
Unit Two Expanding the community of readers: Promoting engagement in second language literature classes
4 Terms of engagement in the literature classroom: Practice and theory
5 Assembling the tools: Equipping students to read literary texts
6 Coming to terms with the literary text: Reading for engagement
7 From literary analysis and argument toward independent reading
8 Composing and conducting a class: Ethics and mechanics
Unit Three Larger contexts and long range planning
9 Literature in the language curriculum: Structures and articulation
10 Accountability and engagement: Grading, evaluation, and assessment
11 Preparation and support for literature teachers
Appendix : Sample syllabi, assignment sheets, course handouts and exam questions
Purchase Info ?
With CourseSmart eTextbooks and eResources, you save up to 60% off the price of new print textbooks, and can switch between studying online or offline to suit your needs.
Once you have purchased your eTextbooks and added them to your CourseSmart bookshelf, you can access them anytime, anywhere.
Buy Access
Teaching Literature in the Languages, CourseSmart eTextbook
Format: Safari Book
$15.99 | ISBN-13: 978-0-205-77432-6