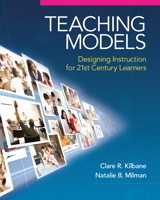 Description
For graduate level courses in models of teaching/models of instruction; graduate or undergraduate courses on general methods of teaching; and for disciplinary methods of teaching, such as teaching in the sciences.
Practical help for using a myriad of available digital tools to transform time-tested models of teaching in order to make 21st century learning more efficient, effective, and engaging
This book is focused on helping educators design effective instruction that successfully addresses the individual and shared learning needs of the diverse population of students in today's dynamic, fast-paced, technology-driven, global society. In it the authors show when and how to use the unprecendented variety of powerful teaching resources available, and how to coordinate their use to best prepare students for the education and workforce demands in their futures.
The authors emphasize the teacher's role as an educational designer who approaches instructional planning with intention, uses knowledge of specialized systematic processes to identify and frame instructional challenges related to learners and content, and competently addresses those challenges by skillfully applying a broad repertoire of instructional models, strategies, and technologies.
Part I explains the ways in which functioning as an educational designer leads to more successful teaching, and Part II presents 10 powerful, proven models of teaching and demonstrates how they can be transformed for new relevance in the digital era and used to address the challenges of 21st century teaching.
Table of Contents
PART I
Chapter 1: Teacher as Educational Designer
Chapter 2: Instructional Design, Educational Design and Designing Effective Instruction
Chapter 3: Instructional Tools for Educational Designers: Models, Strategies and Technologies
Chapter 4: Classroom-Based Assessment in the 21st Century
PART II: INSTRUCTIONAL MODELS
Chapter 5: The Direct Instruction Model
Chapter 6: The Concept Attainment Model
Chapter 7: The Concept Development Model
Chapter 8: The Inductive Model
Chapter 9: The Vocabulary Acquisition Model
Chapter 10: The Inquiry Model
Chapter 11: The Cooperative Learning Model
Chapter 12: The Integrative Model
Chapter 13: The Problem-based Learning Model
Chapter 14: The Socratic Seminar Model