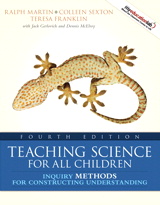 Description
The Fourth Edition of this popular elementary science methods text emphasizes learning science through inquiry, implementation of the Learning Cycle, NSE standards, constructivism, technology, and strategies for teaching diverse learners. This compact version of the larger fifth edition text includes only the methods chapters and omits the content lessons in the back section of the fifth edition book.
Table of Contents
Preface


1. Who, What, Why, and How? Things You Want to Know About Our Book.
For Whom is This Book Prepared?
What Does this Book Strive to Do?
Our Beliefs About Learning and Teaching.
Beliefs Into Action, A Learning Cycle: Exploration, Explanation, Expansion, and Evaluation.
Safe Science.
Chapter Summary.


2. Does Educational Technology Make a Difference? Using Educational Technology to Enrich Your Science Lessons.
What is Educational Technology?
The National Educational Technology Standards.
Why Use Educational Technology? Levels of Use, The Networked Classroom — Removing the Walls.
How Can Educational Technology be Applied in the Context of Science Teaching?
Chapter Summary.


3. Lessons for Constructing Understanding.
Section I: Life Science Lessons.
Section II; Physical Science Lessons.
Section III: Earth and Space Science Lessons.
Appendices.

Appendix A.
National Science Education Standards: Content Standards for K-4 and 5-8.


Appendix B.
A NSTA Position Statement: Guidelines for Responsible Use of Animals in the Classroom.


Appendix C.
A NSTA Position Statement: Liability of Teachers for Laboratory Safety and Field Trips.


Appendix D.
A NSTA Position Statement: Laboratory Science.


References.


Index.