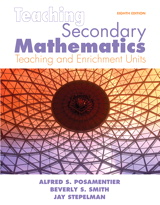 Description
Teaching Secondary Mathematics: Techniques and Enrichment Units, Eighth Edition has been thoroughly revised to discuss current methods of teaching mathematics, considering all aspects and responsibilities of the position, beginning with a brief overview of the history of mathematics education and how it has evolved over time to include standards for teaching and assessment. The authors address how to craft rich and effective daily lesson plans, and how to use a variety of instructional tools and strategies to reach all students in a classroom. Problem solving is a key focus from its instructional underpinnings to its recreational and motivational aspects. All aspects of teaching mathematics are addressed in a practical fashion. The second part of the text provides mathematics teachers with a collection of 125 innovative enrichment units appropriate for the entire secondary school curriculum spectrum.
NEW: Includes the latest information on changes to student assessment that have been made possible due to innovations in technology.
NEW! Features new content on data driven planning.
NEW! Completely revised technology chapter reflects the rapidly changing technology environment of today.
NEW! No chapters remain untouched!