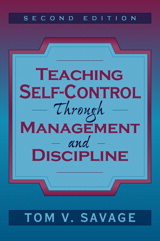 Table of Contents
Each chapter begins with "Introduction" and concludes with "Summary," "Suggested Applications," and "Suggested Readings."
1.Understanding Management and Discipline in the Classroom.
What Are the Causes of Discipline Problems?
Defining Management and Discipline.
Discipline as a Central Educational Concept.
The Goal of Discipline.
The Management and Discipline Domain.
I.EFFECTIVE CLASSROOM MANAGEMENT.
2.Establishing Teacher Authority and Leadership.
What Is Leadership?
Teacher Consistency.
Sharing Power and Responsibility.
Establishing Authority and Leadership.
Sharing Power through Establishment of Classroom Rules.
3.Motivation and Discipline.
Motivational Variables.
Valuing Learning Goals.
Accommodating Needs and Interests in the Classroom.
Altering Perceptions of Required Effort.
Increasing the Probability of Success.
4.Arranging the Physical Environment.
Goals to Be Considered When Planning the Environment.
Dimensions of the Physical Environment.
The Classroom Ambiance.
Classroom Density.
5.Preventing Problems through Time Management.
Understanding Different Types of Time.
Pacing Classroom Activities.
Providing Clear Directions.
Managing Transitions.
Monitoring Student Work.
6.Preventing Problems through Lesson Management.
The Dimensions of Lesson Management.
II.RESPONDING TO PROBLEMS.
7.Responding to Inappropriate Behavior.
The Purpose of Discipline.
Some Principles to Consider Choosing a Response.
Choosing a Response to Misbehavior.
8.Responding to Minor Problems and Supporting Self-Control.
Modeling Self-Control.
Low Profile Responses.
Gaining Cooperation through Communication.
9.Direct Teacher Intervention.
Teacher Assertiveness.
Understanding the Link between Behavior and Consequence.
Implementing Reasonable Consequences.
Identifying Alternative Consequences.
Mistaken Goals.
10.Responding to Persistent Misbehavior.
Teacher Responses.
Behavior Modification.
11.Responding to Serious Behavior Problems.
Attendance Problems.
Cheating.
Stealing.
Vandalism.
Violence against Other Students.
Violence against Teachers.
Drug and Alcohol Abuse.
12.Teaching Conflict Resolution.
Understanding Conflict.
Responses to Conflict.
Solving Conflicts Using Negotiation, Mediation, and Arbitration.