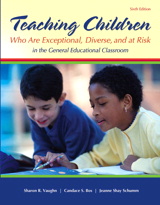 Description
Note: The Enhanced eText features are only available in the Pearson eText format. They are not available in third-party eTexts or downloads, such as CourseSmart.
For the inclusion course taken by Pre- and in-service elementary and secondary school general education teachers.
With its numerous learning activities and sample lessons, this book gives teachers the tools and confidence they need to meet the educational, behavioral, and social needs of each student in today's diverse classrooms.
Here's practical help for today's busy classroom teachers who identify students with special needs as both their greatest challenges and often their greatest rewards. It provides valuable ideas, guidance, and hands-on strategies to help teachers meet the educational and behavioral needs of students from diverse backgrounds and with diverse learning needs. Based on the authors' experience and the central theme that general education teachers can make a difference in the live of all students, particularly students with special needs, it provides the tools and strategies to achieve that goal successfully.
The authors do more than describe curriculum adaptations. They provide step-by-step procedures for implementing those curriculum adaptions in the actual classroom. After reading this book, pre- and in-service teachers alike are armed with the tools and confidence they need to effectively meet all of their students' academic and social needs.
Table of Contents
PART I. FOUNDATIONS
1. Special Education and Inclusive Schooling
2. Response to Intervention: Developing Success for All Learners
3. Communicating and Collaborating with Other Professionals and Families
4. Teaching Culturally and Linguistically Diverse Students
5. Promoting Social Acceptance and Managing Student Behavior
PART II. TEACHING STUDENTS WITH SPECIAL NEEDS
6. Teaching Students with Learning Disabilities and Attention Deficit Hyperactivity Disorder
7. Teaching Students with Communication Disorders
8. Teaching Students with Emotional and Behavioral Disorders
9. Teaching Students with Autism Spectrum Disorders/Pervasive Developmental Disorders
10. Teaching Students with Intellectual and Developmental Disabilities
11. Teaching Students with Lower-Incidence Disabilities
PART III. TEACHING PRACTICES
12. Differentiating Instruction and Assessment for All Learners
13. Promoting Excellence through the Teaching and Learning Connection
14. Facilitating Reading
15. Facilitating Writing
16. Helping All Students Succeed in Mathematics
Appendix
Glossary
Name Index
Subject Index