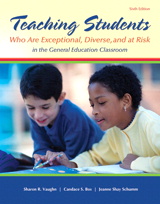 Description
Note: This is the loose-leaf version of Teaching Students Who Are Exceptional, Diverse, and at Risk in the General Education Classroom and does not include access to the Enhanced Pearson eText. To order the Enhanced Pearson eText packaged with the loose-leaf version, use ISBN 0133386287.
In this widely popular book, pre- and in-service elementary and secondary school teachers get the tools and confidence they need to meet the educational, behavioral, and social needs of every student in today's diverse classrooms. With its numerous learning activities and sample lessons—plus stories from teachers, students, and parents—it features a strong focus on applying practical, proven strategies for effective teaching and learning. Teaching Students Who Are Exceptional, Diverse, and at Risk in the General Education Classroom is the ideal guide for today's busy classroom teachers who identify students with special needs as both their greatest challenges and often their greatest rewards.
Improve mastery and retention with the Enhanced Pearson eText
The Enhanced Pearson eText provides a rich, interactive learning environment designed to improve student mastery of content. The Enhanced Pearson eText is:
Engaging. The new interactive, multimedia learning features were developed by the authors and other subject-matter experts to deepen and enrich the learning experience.

Convenient. Enjoy instant online access from your computer or download the Pearson eText App to read on or offline on your iPad® and Android® tablet.*

Affordable. Experience the advantages of the Enhanced Pearson eText along with all the benefits of print for 40% to 50% less than a print bound book.
*The Pearson eText App is available on Google Play and in the App Store. It requires Android OS 3.1-4, a 7" or 10" tablet, or iPad iOS 5.0 or later.
Table of Contents
PART I. FOUNDATIONS
1. Special Education and Inclusive Schooling
2. Response to Intervention: Developing Success for All Learners
3. Communicating and Collaborating with Other Professionals and Families
4. Teaching Culturally and Linguistically Diverse Students
5. Promoting Social Acceptance and Managing Student Behavior
PART II. TEACHING STUDENTS WITH SPECIAL NEEDS
6. Teaching Students with Learning Disabilities and Attention Deficit Hyperactivity Disorder
7. Teaching Students with Communication Disorders
8. Teaching Students with Emotional and Behavioral Disorders
9. Teaching Students with Autism Spectrum Disorders/Pervasive Developmental Disorders
10. Teaching Students with Intellectual and Developmental Disabilities
11. Teaching Students with Lower-Incidence Disabilities
PART III. TEACHING PRACTICES
12. Differentiating Instruction and Assessment for All Learners
13. Promoting Excellence through the Teaching and Learning Connection
14. Facilitating Reading
15. Facilitating Writing
16. Helping All Students Succeed in Mathematics
Appendix
Glossary
Name Index
Subject Index
This title is also sold in the various packages listed below. Before purchasing one of these packages, speak with your professor about which one will help you be successful in your course.
Package ISBN-13: 9780134206561
Includes this title packaged with:
IEPs: Writing Quality Individualized Education Programs, 3rd Edition
Gordon S. Gibb, Tina Taylor Dyches
Teaching Students Who are Exceptional, Diverse, and At Risk in the General Education Classroom, Video-Enhanced Pearson eText -- Access Card, 6th Edition
Candace S. Bos, Jeanne S. Schumm
$165.67 $158.63 | Add to Cart