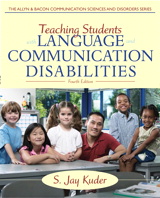 Description
For courses in Language Disorders.
Emphasizing the connection between language and literacy, this text explores language development and language disorders within the context of specific disabilities.
More than ever, it is essential that all students have language and communication skills so they can be successful in school and in the community. Organized in a three-part format, this text examines language development and disorders in school-age children, analyzes language difficulties associated with specific disabilities, and presents assessment techniques and instructional strategies used in today's classrooms. This edition includes new student vignettes, new teacher perspectives, updated activities, and new literacy sections so educators can learn how to apply concepts to real classroom situations.
Table of Contents
Preface

Part One: Understanding Language and Communication

Chapter 1 Language and Language Disorders

Chapter 2 The Elements of Language

Chapter 3 Language Acquisition: Bases for Development

Chapter 4 Language Acquisition: Models

Chapter 5 Language Development: Birth Through the Preschool Years

Chapter 6 Language and Literacy in the School Years

Part Two: Language and Communications Disorders

Chapter 7 Language and Students with Learning Disabilities and Attention Deficit Disorders

Chapter 8 Language and Students with Intellectual Disabilities

Chapter 9 Language and Students with Autism Spectrum Disorders

Chapter 10 Language and Students with Emotional and Behavioral Disorders

Chapter 11 Language and Students with Sensory Disabilities

Chapter 12 Language and Students with Neuromotor Disabilities and Brain Injury

Part Three: Language and Communication in the Classroom

Chapter 13 Assessing Language and Communication

Chapter 14 Enhancing Language and Communication

Chapter 15 Augmentative and Alternative Communication

Chapter 16 Language, Culture, and English Language Learners

Glossary

Index