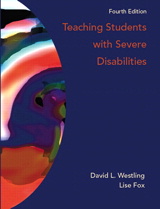 Description
This updated edition of Teaching Students with Severe Disabilities, is written in a way that makes the most complex findings of research understandable and usable in the real educational world. Drawing on their own experiences, the authors bring a level of currency and reality to the book that is unparalleled. This book offers comprehensive coverage of all of the issues that are pertinent to teaching students with severe disabilities. The authors clearly and completely address both methodology and curriculum, presenting topics in the order in which a teacher would approach them: prior considerations, planning and assessment, general instructional procedures, and, finally, procedures targeted to learners with specific disabling conditions. In addition, they pay thoughtful attention to assessment, the role of paraprofessionals, and multicultural concerns.
Table of Contents
PART I INITIAL CONSIDERATIONS
Chapter 1 Students with Severe Disabilities: Definitions, Descriptions, Characteristics, and Potential
Defining Severe Disabilities

Intellectual Disability Categories and Syndromes

Characteristics of Persons with Severe Disabilities

Potential for Success by Persons with Severe Disabilities
Chapter 2 Philosophy and Best Practices for Educating Students with Severe Disabilities
A Philosophy of Services

Contemporary Best Practices for Students with Severe Disabilities

The Bases of Best Practices

The Meaning of Special Education
Chapter 3 Collaboration Among Professionals and Paraeducators
The Meaning of Collaboration
Chapter 4 Parents, Families, and Cultural Issues
Promoting Family Involvement

The Meaning of Collaboration

Establishing Partnerships with the Family

Providing Culturally Competent Education and Support

Providing Support to Parents

The Role of Teachers When Collaborating with Parents

Providing Culturally Competent Instruction
PART II PREPARING TO TEACH
Chapter 5 Planning Instructional Programs for Students with Severe Disabilities
Planning for Students with Severe Disabilities
Chapter 6 Conducting Assessments to Determine Instructional Needs
Approaches to Assessment
PART III GENERAL INSTRUCTIONAL PROCEDURES
Chapter 7 Teaching Students to Acquire New Skills
Elements of Effective Instruction

Good General Teaching Practices

How Behaviors and Skills are Learned

Instructional Tactics for Teaching New Skills to Students with Severe Disabilities
Chapter 8 Teaching Skills for Generalization and Maintenance
The Importance of Generalization and Maintenance

Strategies That Have Been Used to Achieve Skill Generalization

Applying Generalization Strategies

Teaching Skill Maintenance

Writing Instructional Programs to Include Generalization Instruction and to Promote Maintenace
Chapter 9 Evaluating Student Progress
The Importance of Evaluating Student Progress

Alternate Assessment Requirements for Students with Severe Disabilities

Portfolio Assessment Procedures

Continuous Direct Assessment
Chapter 10 Creating Inclusive Educational Environments
Teaching in Inclusive Environments

The Importance of School Inclusion

Benefits of Inclusion

The Inclusive Education Model

Facilitating School Acceptance: Structures for Successful Inclusion

Making Inclusion Work: Essential Supports

Peer Supports

Colllaborative Teaming

Meaningful Instructional Arrangements

The Changing Role of the Special Educator
PART 4 SPECIFIC INSTRUCTIONAL AND MANAGEMENT PROCEDURES
Chapter 11 Teaching Communication Skills
The Instruction of Communication Skills

Communication Skill Development

Assessment Issues

Augmentative and Alternative Communication

Instructional Strategies

Generalization Issues
Chapter 12 Providing Behavioral Supports to Improve Challenging Behavior
Addressing Challenging Behavior

Defining Problem Behavior

A Functional Approach

Conducting a Functional Assessment

Behavior Support Plan Development
Chapter 13 Managing Sensory and Motor Systems
Addressing Sensory and Motor Challenges

The Sensory Systems

The Motor System

Positioning and Handling

Instructional Programming

Sensory Impairments
Chapter 14 Providing Support for Health and Medical Needs
Supporting Students with Health-Care Needs

Therapeutic Management

Nutrition and Feeding

Special Concerns

Infectious Disease
Chapter 15 Teaching Personal Care Skills
The Importance of Personal Care

General Considerations

Eating, Self-Feeding, and Other Mealtime Skills

Learning to Use the Toilet

Learning to Dress

Learning Personal Hygiene and Grooming Skills
Chapter 16 Teaching Leisure and Recreational Skills
The Importance of Recreation Skills

Recreation Skill Instruction

Recreation as a Related Service

Community Recreation Opportunities

Developing Friendships
Chapter 17 Teaching Academic Skills
Issues Related to Academic Instruction and Accessing the General Curriculum

Facilitating Access and Participation in the General Curriculum

Teaching Literacy Skills

Teaching Math Skills

Teaching Science Skills
Chapter 18 Teaching Community and Domestic Skills
Why Teach Community and Domestic Skills?

General Procedures Related to Teaching Community and Domestic Skills

Community Settings and Activities

Domestic Skills and Activities

Issues Related to Community-Based Instruction
Chapter 19 Using Technology to Enhance Teaching and Learning
Assistive Technology Devices and Services

Assistive Technology Devices for Students with Severe Disabilities

Considerations for Identifying Appropriate Assistive Technology Devices and Services

Use of AT Devices in Family and Cultural Contexts

Funding of AT Devices and Services

Effectiveness of AT Devices and Services

Limitations of AT Devices and Services and Needed Directions
Chapter 20 Meeting the Needs of Young Children
Special Education Programs and the Law

Teaching Young Children

Family-Centered Approach

The Intervention Context

Assessment in Early Intervention

Instructional Programs for Young Children

Inclusion and Young Children

Transition Issues
Chapter 21 Transition Planning and Adult Issues
The Importance of Transition Planning

Self-Determination

Natural Supports

Postschool Outcomes

Transition Services

Developing the Transition Individualized Education Plan

Teaching the Secondary Student
Purchase Info ?
With CourseSmart eTextbooks and eResources, you save up to 60% off the price of new print textbooks, and can switch between studying online or offline to suit your needs.
Once you have purchased your eTextbooks and added them to your CourseSmart bookshelf, you can access them anytime, anywhere.
Buy Access
Teaching Students with Severe Disabilities, CourseSmart eTextbook, 4th Edition
Format: Safari Book
$69.99 | ISBN-13: 978-0-13-713203-4