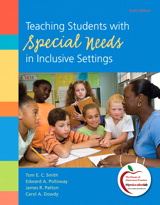 Description
This highly praised text takes a categorical approach to covering the opportunities and challenges in creating inclusive classrooms for all students. IEP coverage, new material on Response to Intervention, chapters on both elementary and secondary classrooms as well as new features on differentiating instruction in both elementary and secondary classrooms provide the most coverage in the field of the instructional processes general education teachers will need to know to address the needs of all learners.
Table of Contents
Part 1: Foundations of Inclusion
1. Inclusive Education: An Introduction
2. Professional and Home-School Collaboration
3. Identifying and Programming for Student Needs
4. Managing and Differentiating Classrooms
Part 2: Teaching Students with Special Needs
5. Teaching Students with Learning Disabilities
6. Teaching Students with Emotional and Behavioral Disorders
7. Teaching Students with Intellectual Disabilities
8. Teaching Students with attention Deficit/Hyperactivity Disorders
9. Teaching Students with Autism Spectrum Disorders
10. Teaching Students with Sensory Impairments
11. Teaching Students with Low-Incidence Disabilities
12. Teaching Students with Speech and Language Disorders
13. Teaching Students with Special Gifts and Talents
14. Teaching Students who are At Risk
Part 3: Applying Inclusive Practice
15. Teaching Students with Special Needs in Elementary Schools
16. Teaching Students with Special Needs in Secondary Schools
Appendix
Sample IEP for an Elementary Student
Sample IEP for a Middle School Student
Sample IEP for a Secondary School Student
Additional Course Materials
This title is also sold in the various packages listed below. Before purchasing one of these packages, speak with your professor about which one will help you be successful in your course.
Purchase Info
Digital Choices ?
MyLab & Mastering with Pearson eText is a complete digital substitute for a print value pack at a lower price.
MyLab & Mastering ?
MyLab & Mastering products deliver customizable content and highly personalized study paths, responsive learning tools, and real-time evaluation and diagnostics. MyLab & Mastering products help move students toward the moment that matters most—the moment of true understanding and learning.
eTextbook ?
With CourseSmart eTextbooks and eResources, you save up to 60% off the price of new print textbooks, and can switch between studying online or offline to suit your needs.
Once you have purchased your eTextbooks and added them to your CourseSmart bookshelf, you can access them anytime, anywhere.
Print Choices
Loose Leaf Version ?
Books a la Carte are less-expensive, loose-leaf versions of the same textbook.