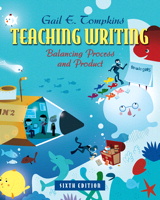 Description
For undergraduate and graduate courses in elementary writing methods.
Balanced writing instruction focusing on both process and product
This best selling text by Gail Tompkins thorougly examines genres and instructional procedures with a strong new focus on differentiating instruction to ensure success for all writing students. New chapters on the writer's craft and on writing across the curriculum offer detailed information on the six traits of good writing as well as writing in content areas, and new features provide insight into teaching English learners and using technology meaningfully in the writing classroom.
Table of Contents
Part 1 The Process
1. The Writing Process
2. Developing Strategic Writers
3. The Writer's Craft
4. Assessing Writing
Part 2 The Product
5. Personal Writing
6. Descriptive Writing
7. Poetry Writing
8. Narrative Writing
9. Expository Writing
10. Biographical Writing
11. Persuasive Writing
12. Writing Across the Curriculum