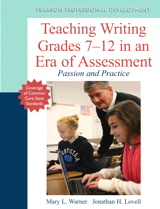 Description
From veteran teachers—here are authentic, proven practices in the teaching of writing, grades 7–12, and integrating Common Core State Standards within a comprehensive English Language Arts curriculum.
Middle and high school teachers share their practices, along with samples of student writing that confirm the value of their pedagogy.
This is a book for teachers, by teachers, about teaching writing. In it, veteran teachers assert that writing, especially if it is authentic, must be taught comprehensively and not segmented into distinct measurable skills. An ideal guide for those who have not had access to professional development in teaching writing, the book gives readers the benefit of hearing first hand from real people teaching real students—teachers who have great credibility and knowledge about teaching writing, plus the "evidence" of their success as shown in their students' writing samples.
In this unique book, middle and high school teachers share their best practice and share samples of student writing that confirms the value of their pedagogy. In addition to presenting detailed, specific pedagogy appropriate for seventh grade, eighth grade, and high school students, the book also addresses a wide range of students, including English Language Learners and reluctant writers and readers. The teacher/writers demonstrate authentic and comprehensive pedagogy and incorporate the Common Core State Standards into their presentations.
Table of Contents
Forward xvi
Preface xix
Acknowledgements xxii
1 Passion and Practice: Personalizing the Theoretical—Jonathan Lovell 1
2 Promoting the Passion: Teachers as Writers, Teachers as Collaborators—Mary Warner 18
3 Building on the Formulaic: Into, Through, and Beyond—Maria Clinton, Martin Brandt, and Brook Wallace 34
4 Creative Reading in Support of Writing: Developing Meaningful Response to Literature—Jay Richards, Brenna Dimas, Marie Milner, and Mary Warner 77
5 Finding Your Writing Voice—Mary Warner, Kathleen Cohen, and Marie Milner 106
6 Bringing Passion to the Research Process: The I-Search Paper—Brandy Appling-Jenson, Carolyn Anzia, and Kathleen González 130
7 Expanding the Boundaries: The Uncharted Territory of Multigenre Writing—Suzanne Murphy, Maria Clinton, and Marie Milner 153
8 Empowering English Language Learners: Moving Toward Competency as Speakers, Readers, and Writers—Marie Milner 180
9 Practical Guidelines for Portfolios: Promoting Qualitative Assessment in a Test-Prep Climate—Suzanne Murphy, Amy Thompson, and Kathleen González 192
10 Keeping Heart: Dealing with the Realities of the Paper Load While Providing Authentic Response—Kathleen González and Maria Clinton 216
Index 233