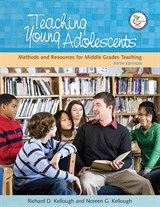 Description
Would you like just one source for learning all you need to know about teaching young adolescents?
Preservice and inservice teachers will benefit from Teaching Young Adolescents—a comprehensive book
of methods, guidelines, and resources for effectively teaching middle grades students. It offers an eclectic
mix of the best models in education and provides guidelines to help you decide which approach to use at
a particular time. Exercises for active learning embedded throughout the book allow you to develop skills
in using specific approaches.
Table of Contents
Chapter 1 Teaching Young Adolescents: Recognizing and Understanding the Challenge
Chapter 2 Professional Responsibilities of Teachers of Young Adolescents
Chapter 3 Thinking and Questioning: Skills for Meaningful Learning
Chapter 4 The Learning Environment: Planning and Managing the Classroom
Chapter 5 The Curriculum
Chapter 6 Preparing an Instructional Plan
Chapter 7 Assessing and Reporting Student Achievement
Chapter 8 Organizing and Guiding Student Learning: Alone and in Groups
Chapter 9 Additional Strategies and Strategy Integration