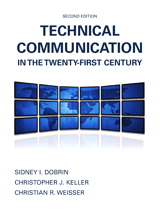 Description
Technical Communication in the Twenty-First Century (TCTC) prepares readers to be successful writers and readers of technical communication, regardless of their career path. Featuring a wealth of examples and cases, it emphasizes problem-solving, collaboration, visual rhetoric and usability. Its approach analyzes why something worked or did not work, as well as how to produce the appropriate communication. Now available with the MyTechCommLab online learning tool, this edition features more focus on transnational communication, forty-five new case studies, and new information on the relationship between technology and communication.
Table of Contents
Table of Contents
1. Technical and Professional Communication in the Workplace
2. Rhetoric and Technical Communication
3. Technical Writing and Electronic Technologies
4. Ethics and the Workplace Writer
5. Workplace Writing in a Transnational World
6. Researching and Evaluating Source Materials
7. Organizing and Drafting Documents
8. Visual Rhetoric and Using Visuals
9. Layout and Design
10. Revising, Rewriting, and Editing
11. Usability
12. E-mail, E-messaging, and Memos
13. Letters
14. Finding and Obtaining Employment
15. Technical Definitions
16. Technical Descriptions and Specifications
17. Websites and Online Environments
18. Technical Instructions
19. Manuals
20. Proposals and Requests for Proposals
21. Informal Reports
22. Formal Reports
23. Presentations
APPENDIX A: HANDBOOK
APPENDIX B: DOCUMENTATION
Additional Course Materials
Purchase Info
Digital Choices ?
MyLab & Mastering with Pearson eText is a complete digital substitute for a print value pack at a lower price.
MyLab & Mastering ?
MyLab & Mastering products deliver customizable content and highly personalized study paths, responsive learning tools, and real-time evaluation and diagnostics. MyLab & Mastering products help move students toward the moment that matters most—the moment of true understanding and learning.