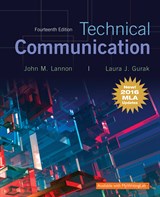 Description
For courses in Technical Communication.
This version of Technical Communication has been updated to reflect the 8th Edition of the MLA Handbook (April 2016)*
Comprehensive, user-friendly instruction in workplace writing, technical communication, business writing
Today's employees are tasked with writing documents such as emails, memos, letters, and informal reports, as well as more complex forms of communications such as formal reports, proposals, web pages, and presentations. Technical Communication, Fourteenth Edition builds upon the authority of the previous editions by clearly guiding students to write documents persuasively, effectively, and with an eye towards technological innovations and global communications. It incorporates the interpersonal, logical, ethical, and cultural demands of these different forms of workplace communications and provides students with the necessary skills to navigate these nuisances. Building on research and writing skills and touching on the importance of ethics, the authors prepare students for technical writing in any field.
* The 8th Edition introduces sweeping changes to the philosophy and details of MLA works cited entries. Responding to the "increasing mobility of texts," MLA now encourages writers to focus on the process of crafting the citation, beginning with the same questions for any source. These changes, then, align with current best practices in the teaching of writing which privilege inquiry and critical thinking over rote recall and rule-following.
Table of Contents
I: COMMUNICATING IN THE WORKPLACE
1. Introduction to Technical Communication
2. Meeting the Needs of Specific Audiences
3. Persuading Your Audience
4. Weighing the Ethical Issues
5. Teamwork and Global Considerations
6. An Overview of the Technical Writing Process
II. THE RESEARCH PROCESS
7. Thinking Critically About the Research Process
8. Evaluating and Interpreting Information
9. Summarizing Research Findings and Other Information
III. ORGANIZATION, STYLE, AND VISUAL DESIGN
10. Organizing for Readers
11. Editing for a Professional Style and Tone
12. Designing Visual information
13. Designing Pages and Document
IV. SPECIFIC DOCUMENTS AND APPLICATIONS
14. Email and Text Messages
15. Workplace Memos and Letters
16. Resumes and other Job Search Materials
17. Technical Definitions
18. Technical Descriptions, Specifications, and Marketing Materials
19. Instructions and Procedures
20. Informal Reports
21. Formal Analytical Reports
22. Proposals
23. Oral Presentations and Video Conferencing
24. Blogs, Wikis, and Web Pages
25. Social Media
V. RESOURCES FOR TECHNICAL WRITERS
A Quick Guide to Documentation
A Quick Guide to Grammar, Usage, and Mechanics
This title is also sold in the various packages listed below. Before purchasing one of these packages, speak with your professor about which one will help you be successful in your course.
Package ISBN-13: 9780134888293
Includes this title packaged with:
MyLab Writing with Pearson eText -- Valuepack Access Card
Pearson Education, . . Pearson Education
$166.64 $158.31 | Add to Cart
Package ISBN-13: 9780134838571
Includes this title packaged with:
Pearson Writer -- Standalone Access Card, Writer -- 12 Month Access
Pearson Education, . . Pearson Education
$159.99 $151.99 | Add to Cart