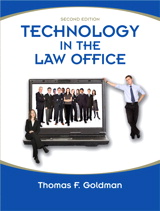 Description
Approriate for courses on Computers and the Law.
Technology in the Law Office, 2e builds a strong foundation in technology concepts, applications and vocabulary so students are prepared to work effectively in today's law office. This new edition includes an early chapter on ethics and two chapters devoted to electronic discovery. With a focus on self-reliance, it helps students develop a hands-on understanding of the most popular legal software programs, including AbacusLaw, Tabs3, SmartDrawLegal, LexisNexis CaseMap and TimeMap, and Sanction II. This edition includes new case studies and more references to Microsoft Office applications, making it an outstanding reference for those studying and working in the legal field.
Table of Contents
CONTENTS
CHAPTER 1: Technology in the Law Office
CHAPTER 2: Legal Ethics in a Technology Age
CHAPTER 3: Computer Hardware and Software
CHAPTER 4: The Internet and Electronic Mail
CHAPTER 5: Electronic Research
CHAPTER 6: Word Processing
CHAPTER 7: Electronic Spreadsheets
CHAPTER 8: Electronic Databases
CHAPTER 9: The Paperless Office
CHAPTER 10: Office Management Software
CHAPTER 11: Case Organization and Management Software
CHAPTER 12: Electronic Discovery–The Fundamentals
CHAPTER 13: E-Discover Rules and Procedure
CHAPTER 14: Litigation Support
CHAPTER 15: Presentation and Trial Graphics
CHAPTER 16: The Electronic Courthouse
Purchase Info ?
With CourseSmart eTextbooks and eResources, you save up to 60% off the price of new print textbooks, and can switch between studying online or offline to suit your needs.
Once you have purchased your eTextbooks and added them to your CourseSmart bookshelf, you can access them anytime, anywhere.
Buy Access
Technology in the Law Office, CourseSmart eTextbook, 2nd Edition
Format: Safari Book
$72.99 | ISBN-13: 978-0-13-505684-4