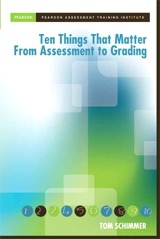 Description
Ten Things that Matter from Assessment to Grading outlines the big ideas of assessment so teachers can prioritize where to refine their practice. Structured in standalone, quick-read chapters, its flexible approach lets readers choose the material that matters most to them. Chapters tackle concepts such as descriptive feedback, differentiated instruction, student ownership and grading accuracy. Classroom examples and teacher accounts are included in each chapter to help illustrate how to translate research to practice. Tips, guided questions, and next steps encourage readers to get started on their own path to fair and balanced assessment and grading.
Table of Contents
Being the Change Matters

Confidence Matters

Assessment Accuracy Matters

Descriptive Feedback Matters

Differentiated Instruction Matters

Student Ownership Matters

Accurate Grades Matter

Practice Matters

Improvement Matters

Professional Learning Matters
These online resources are available at no cost.
Companion Website for Ten Things that Matter From Assessment to Grading