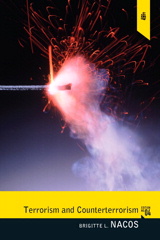 Description
Focusing on the phenomenon of terrorism in the post-9/11 era, Terrorism and Counterterrorism investigates this form of political violence in an international and American context and in light of new and historical trends.
In this comprehensive and highly readable text, Brigitte Nacos, a renowned expert in the field, clearly defines terrorism's diverse causes, actors, and strategies, outlines anti- and counter-terrorist responses, and highlights terrorism's relationship with the media and the public. Terrorism and Counterterrorism introduces students to the field's main debates and helps them critically assess our understanding of and our strategies for this complex and enduring issue.
Table of Contents
Chapter 1. Introduction: The Terrorist Threat
PART I. TERRORISM
Chapter 2. The Perennial Debate: What is Terrorism?
Chapter 3. Terrorism in the Global Context
Chapter 4. Terrorism in the American Context
Chapter 5. Religious Terrorism: Political Violence in the Name of God
Chapter 6. The Making of Terrorists: Causes, Conditions, Influences
Chapter 7. From State Sponsors to Involuntary Hosts
Chapter 8. Common Thread: Goals, Targets, Tactics
Chapter 9. Organizational Structures and the Financing of Terror
PART II. COUNTERTERRORISM
Chapter 10. Terrorism and America's Post-9/11 National Security Strategy
Chapter 11. The Utility of Hard and Soft Power in Counterterrorism
Chapter 12. Balancing Security, Liberty, and Human Rights
Chapter 13. Homeland Security: Preparedness and Prevention
PART III. THE MEDIA AND THE PUBLIC
Chapter 14. Terrorist Propaganda and the Media
Chapter 15. Terror and Hate in Cyberspace
Chapter 16. Conclusion: Living with Terrorist Threats
Appendix. Major Terrorist Incidents Since the Early 1970s
Purchase Info ?
With CourseSmart eTextbooks and eResources, you save up to 60% off the price of new print textbooks, and can switch between studying online or offline to suit your needs.
Once you have purchased your eTextbooks and added them to your CourseSmart bookshelf, you can access them anytime, anywhere.
Buy Access
Terrorism and Counterterrorism, CourseSmart eTextbook, 4th Edition
Format: Safari Book
$34.99 | ISBN-13: 978-0-205-11318-7