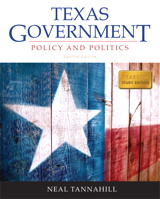 Description
With an emphasis on public policy and active learning, this popular and highly accessible text introduces the essentials of Texas government and its often colorful politics in a way that any student can understand.
An abundance of useful study aids and exercises in every chapter and a lively, straightforward writing style makes the material accessible to students of every level. Showing students the impact that government has on their lives, this insightful and sometimes humorous critique of Texas government engages students in the course material and encourages them to become active participants in the course and their government. This text is part of the "Pearson Study Edition" series and contains a battery of practice chapter tests for student self study and review.
Table of Contents
Preface
Introduction
CHAPTER 1: THE PEOPLE, ECONOMY, AND POLITICAL CULTURE OF TEXAS
CHAPTER 2: TEXAS CONSTITUTION
CHAPTER 3: THE FEDERAL CONTEXT OF TEXAS POLICYMAKING
CHAPTER 4: POLITICAL PARTICIPATION
CHAPTER 5: INTEREST GROUPS
CHAPTER 6: POLITICAL PARTIES
CHAPTER 7: ELECTIONS
CHAPTER 8: THE TEXAS LEGISLATURE
CHAPTER 9: EXECUTIVE BRANCH
CHAPTER 10: JUDICIAL BRANCH
CHAPTER 11: CITY GOVERNMENT
CHAPTER 12: COUNTIES, SCHOOL DISTRICTS, AND SPECIAL DISTRICTS
CHAPTER 13: STATE BUDGET POLICY
CHAPTER 14: CRIMINAL JUSTICE
Glossary
Photo Credits
Index
Practice Tests
Answers to Practice Test Questions
Purchase Info ?
With CourseSmart eTextbooks and eResources, you save up to 60% off the price of new print textbooks, and can switch between studying online or offline to suit your needs.
Once you have purchased your eTextbooks and added them to your CourseSmart bookshelf, you can access them anytime, anywhere.
Buy Access
Texas Government, CourseSmart eText, 12th Edition
Format: Safari Book
$50.99 | ISBN-13: 978-0-205-85460-8