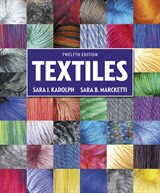 Description
Prepare for a Career in TEXTILES with Confidence!
Sara Kadolph's Textiles provides students with a comprehensive, basic knowledge of textiles. This beautiful book, filled with full-color photos and illustrations, examines the interrelationships among fibers, yarns, fabrics, and finishes and discusses how they impact product performance. Organized according to the textile production process, the text gives students a solid understanding of textile components and how they work together. New activities and case studies bring the text to life and facilitate group activities. A timeless resource for any professional in the industry, the Twelfth Edition has been updated to discuss sustainability, technological advances, and new career opportunities in the textile industry.
Table of Contents
SECTION I: Introduction to Textiles
1. Introduction
2. Product Development from a Textile Perspective
SECTION II: Fibers
3. Textile Fibers and Their Properties
4. Natural Cellulosic Fibers
5. Natural Protein Fibers
6. The Fiber-Manufacturing Process
7. Manufactured Regenerated Fibers
8. Synthetic Fibers
9. Special-Use Fibers
SECTION III: Yarns
10. Yarn Processing
11. Yarn Classification
SECTION IV: Fabrication
12. Weaving, Basic Weaves, and Fabrics
13. Fancy Weaves and Fabrics
14. Knitting and Knit Fabrics
15. Other Fabrication Methods
SECTION V: Finishing
16. Finishing: An Overview
17. Aesthetic Finishes
18. Special-Purpose Finishes
19. Dyeing and Printing
SECTION VI: Other Issues Related to Textiles
20. Care of Textile Products
21. Legal and Sustainability Issues Related to Textiles
22. Career Exploration
Appendix A: Fiber Names in Other Languages
Appendix B: Fibers Not Produced in the United States
Appendix C: Selected Trade Names
Appendix D: A Map of the World
Appendix E: Standard Care Terminology
Appendix F: A Guide to Stain Removal
GLOSSARY
BIBLIOGRAPHY
INDEX
Enhance your learning experience with text-specific study materials.
This title is also sold in the various packages listed below. Before purchasing one of these packages, speak with your professor about which one will help you be successful in your course.
Package ISBN-13: 9780134563374
Includes this title packaged with:
Swatch Kit for Textiles, 12th Edition
Sara J Kadolph, Sara B Marcketti
$203.99 $193.79 | Add to Cart
Print
Add to Cart
$166.65 $158.32 | ISBN-13: 978-0-13-412863-4
Free Ground Shipping.