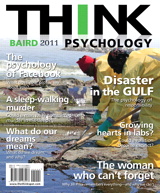 Description
THINK Psychology covers the essentials every introductory psychology student should know. The chapters are briefer than a standard introductory text–allowing for a lower cost to students and using less printed paper. Unlike other brief texts, THINK Psychology includes 18 chapters of content–giving you the flexibility to choose what you want to study without the worry that skipping several chapters will mean leaving out hundreds of pages of content.
THINK Psychology provides currency and relevance through design, current examples and high-interest readings. The readings have been chosen from a range of well respected journals and popular press publications.
Table of Contents
Chapter 01: Introduction
Chapter 02: Research Methods
Chapter 03: The Human Brain
Chapter 04: Genetics and Evolution
Chapter 05: Sensation and Perception
Chapter 06: Consciousness
Chapter 07: Learning
Chapter 08: Memory
Chapter 09: Cognition and Intelligence
Chapter 10: Human Development I: Physical, Cognitive, and Language Development
Chapter 11: Sex and Gender
Chapter 12: Human Development II: Social Development
Chapter 13: Emotion and Motivation
Chapter 14: Social Psychology
Chapter 15: Health and Stress
Chapter 16: Personality and Individual Differences
Chapter 17: Psychological Disorders
Chapter 18: Psychological Therapies
These online resources are available at no cost.
TheTHINKSpot for THINK Psychology, 2nd Edition
This title is also sold in the various packages listed below. Before purchasing one of these packages, speak with your professor about which one will help you be successful in your course.
Package ISBN-13: 9780205807819
Includes this title packaged with:
MyLab Search without Pearson eText -- Valuepack Access Card
. . Pearson Education
$126.47 $120.15 | Add to Cart