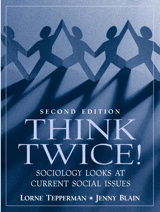 Table of Contents
I. THE INDIVIDUAL AND SOCIETY.
1. Culture.
2. Socialization.
3. Deviance and Control.
II. SOCIAL DIFFERENCES.
4. Class and Stratification.
5. Global Inequality.
6. Ethnic and Race Relations.
7. Religion.
8. Gender Relations.
III. SOCIAL INSTITUTIONS.
9. Family.

10. Work and the Economy.
11. Education.

12. Politics and the State.
13. Health.

IV. SOCIAL CHANGE.
14. Population and the Environment.

15. Building a Better Future.

Additional Course Materials
This title is also sold in the various packages listed below. Before purchasing one of these packages, speak with your professor about which one will help you be successful in your course.
Package ISBN-13: 9780134594200
Includes this title packaged with:
THINK Sociology, 2nd Edition
John D. Carl
$177.93 $169.03 | Add to Cart