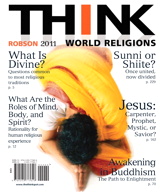 Description
THINK Currency
THINK Relevancy
THINK World Religions
With a magazine design, 15 page chapters, and readings from popular trade titles, THINK World Relgions is the World Religions text your students will read.
THINK World Religions is informed with the latest research and the most contemporary examples, allowing you to bring current events directly into your classroom with little additional work.
A magazine design developed with the benefit of extensive student feedback will engage your students and deliver the core concepts of World Religions in a way that they can actually understand.
The groundbreaking instructor supplements package will help you bring the core concepts of World Religions to life, without burdening your students with heavy, too dense and too expensive learning solutions.
Thinkspot, the text's open access website, provides students with a large resource of tools to help them achieve a better grade.
Table of Contents
Chapter 1: Thinking about Religion
Chapter 2: Talking about Religion
Chapter 3: Hinduism: The Eternal Law
Chapter 4: Hinduism: Law and Life
Chapter 5: Buddhism: Becoming Awake
Chapter 6: Buddhism: Awakening the World
Chapter 7: East Asian Sacred Ways: The Eternal Dao
Chapter 8: East Asian Sacred Ways: Harmony in the World
Chapter 9: Judaism: A Chosen People Choosing God
Chapter 10: Judaism: Israel in the Diaspora
Chapter 11: Christianity: The God-Man Messiah
Chapter 12: Christianity: Communion and Community
Chapter 13: Islam: Submission and Faith
Chapter 14: Islam: The Pillars and the Umma
Chapter 15: Religions of Place: A Sacred World Around Us
Chapter 16: New Religions: A Quest for the Sacred
Purchase Info ?
With CourseSmart eTextbooks and eResources, you save up to 60% off the price of new print textbooks, and can switch between studying online or offline to suit your needs.
Once you have purchased your eTextbooks and added them to your CourseSmart bookshelf, you can access them anytime, anywhere.
Buy Access
THINK World Religions, CourseSmart eTextbook
Format: Safari Book
$35.99 | ISBN-13: 978-0-205-78580-3