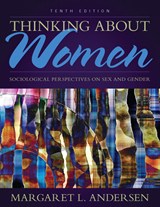 Description
Examines Gender in Society
Thinking About Women, 10/e by Margaret L. Andersen and Dana Hysock Witham examines how gender operates in every aspect of society. This title is interdisciplinary in its coverage, yet grounded in sociological theory. The opening chapters introduce readers to the underlying sociological frameworkand show how research on women and women's studies as a field developed from the feminist movement.
NOTE: This is the standalone book.
This title is available in a variety of formats - digital and print. Pearson offers its titles on the devices students love through CourseSmart, Amazon, and more.
Table of Contents
BRIEF TABLE OF CONTENTS
Part I Introduction
Chapter 1 Studying Women: Feminist Perspectives
Part II Gender, Culture, and Sexuality
Chapter 2 The Social Construction Of Gender
Chapter 3 Gender, Culture, And The Media
Chapter 4 Sexuality and Intimate Relationships
Part III Gender and Social Institutions
Chapter 5 Gender, Work, And The Economy
Chapter 6 Gender and Families
Chapter 7 Women, Health, And Reproduction
Chapter 8 Women And Religion
Chapter 9 Women, Crime, And Deviance
Chapter 10 Gender, Education, And Science
Chapter 11 Women, Power, And Politics
Part IV Gender and Social Change: Frameworks of Feminism
Chapter 12 Women And Social Reform: Liberal Feminism
Chapter 13 Contemporary Frameworks In Feminist Theory
Enhance your learning experience with text-specific study materials.