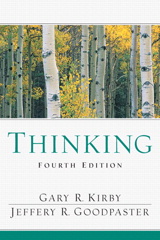 Description
For courses in Introduction to Philosophy, Critical Thinking, and English Composition.
Thinking's comprehensive and interdisciplinary approach encourages a more complete and practical treatment for the student of how to think logically, critically, creatively, and persuasively.
The authors wrote this book to give teachers and students a friendlier, more comprehensive, more systematic, more interdisciplinary, and thus a more effective text than any on the market.
Table of Contents
1 What Is Thinking?
OUR CULTURAL LEGACY
WHY THINK?
THINKING ACTIVITY 1.1: Things More Important Than Thinking
Thoughts Richer Than Gold
Thinking as Possibility
Thoughts Accumulate
Life Without Thinking
WHAT IS THINKING?
The Mystery
Toward a Definition: Thinking as Communicating
BOX: The Centrality of Thinking
COMMUNICATING: THE MIRROR OF THOUGHT
Thinking as Writing: Clarity, Exactness, Awareness, Richness
THINKING ACTIVITY 1.2: Thinking, Sensing, Writing
Thinking as Dialogue: Validation and Insight
MISTHINKING
SUMMARY
THINKING CHALLENGES
2 Personal Barriers
ENCULTURATION
Sources of Enculturation
BOX: Some Common American Beliefs
Religion and Enculturation
BOX: Spinoza: A Man of Reason
THINKING ACTIVITY 2.1: Our Own Enculturation
SELF-CONCEPT
THINKING ACTIVITY 2.2: The Idea of Self
THINKING ACTIVITY 2.3: Letting Go
EGO DEFENSES
Denial
Projection
Rationalization
SELF-SERVING BIASES
BOX: Other Attribution Errors
BOX: Self-Serving Biases?
THINKING ACTIVITY 2.4: Owning Up to Our Dark Side
THE ROLE OF EXPECTATIONS AND SCHEMATA
EMOTIONAL INFLUENCES
Anger
Passion
Depression
THINKING ACTIVITY 2.5: Five Thinking Errors
STRIVING FOR COGNITIVE CONSISTENCY
STRESS
BOX: Signs and Symptoms of Stress
Stress Management
THINKING ACTIVITY 2.6: Five Ways to Prevent Stress
SUMMARY
BARRIER CHALLENGES
3 Sensing
SENSUAL BEGINNINGS
THE POWER OF OUR SENSES
THE DECEPTION OF OUR SENSES
THINKING ACTIVITY 3.1: Ideas: Innate or Learned?
THINKING ACTIVITY 3.2: Our Personal Sense Deceptions
SHARPENING OUR SENSES
THINKING ACTIVITY 3.3: Seeing Anew
POWERFUL LISTENING
The Paradox of Powerful Listening
How to Listen
THINKING ACTIVITY 3.4: Developing an Action Plan
SUMMARY
SENSING AND THINKING CHALLENGES
4 Brain and Memory
THE MYSTERY
THINKING AND OUR BRAIN
THINKING ACTIVITY 4.1: An Exercise in Mental Discipline
Food and Drugs
Sleep
THINKING ACTIVITY 4.2: Critical Reading Before We Sleep
Our Thinking Potential
BOX: Brain and Mind
THINKING AND MEMORY
The Changing Nature of Memory
THINKING ACTIVITY 4.3: Memories of Childhood
Forgetting
BOX: Recall versus Recognition
Why We Forget
How to Improve Memory
THINKING ACTIVITY 4.4: Using Mnemonics
BOX: Memory Pills
SUMMARY
BRAIN AND MEMORY CHALLENGES
5 Language: Our Thinking Medium
THINKING ACTIVITY 5.1: Language and Thinking
LANGUAGE AND OUR MIND
The Universalizing Power of Language
The Structuring Power of Language
LANGUAGE AND SOCIETY
THINKING ACTIVITY 5.2: A Brief Mind Sketch
THE METAPHORICAL POWER OF LANGUAGE
What Is a Metaphor?
Metaphorical Models Control Thinking
BOX: Language, Lawyers, and Lawmakers
THE LIMITATIONS OF LANGUAGE
THE POWER OF ENGLISH
Word Meanings
THINKING ACTIVITY 5.3: The Language in Our Mind
THINKING ACTIVITY 5.4: Identifying Our Flame Words
Word Order Creates Meaning
The Power Parts: Noun and Verb
Thinking and the Context
Clarity
BOX: Clearly Embarrassing
THE PITFALLS OF ENGLISH
Generalizations and Abstractions
BOX: High Specificity
Wordiness
Redundancies
Illogicalities
Clichés
SUMMARY
LANGUAGE CHALLENGES
6 Feeling
FEELINGS AND THINKING
CULTURAL CONTEXT
Business
Church
Family
THE FORCE BEHIND OUR THOUGHTS
Beneath the Rational Surface
The Importance of Tone
THINKING ACTIVITY 6.1: Feelings Beneath Our Thoughts
CONTROLLING EMOTIONS
GENERATING SPEECH
GENERATING WRITING
The Inspiration Method
The Recollection Method
The Conscious Selection Method
FEELINGS TOWARD TOPIC AND AUDIENCE
THINKING ACTIVITY 6.2: Evoking Emotions
OBSERVING FEELINGS
SUMMARY
THINKING AND FEELING CHALLENGES
7 Creative Thinking
WHAT IS CREATIVITY?
METAPHORICAL THINKING
THINKING ACTIVITY 7.1: Making Metaphors
KINDS OF CREATIVE THINKING
WHO CAN THINK CREATIVELY?
THINKING ACTIVITY 7.2: Poetic Impressions
CONDITIONS AND LIMITATIONS OF CREATIVITY
BEGINNING TO CREATE
Brainstorming
Starbursting
COAXING CREATIVITY
Step 1: Desire
Step 2: Knowledge and Skills
Step 3: Edisonian Effort
THINKING ACTIVITY 7.3: Prepcreation
Step 4: Fermentation and Insight
Step 5: Evaluation
SUMMARY
BOX: Leonardo da Vinci
CREATING CHALLENGES
8 Organizing
ORIGINS OF ORDER
NATURAL/MENTAL ORDERS
Topical Order
Analogical Order
Chronological Order
Causal Order
THINKING ACTIVITY 8.1: Other Natural Orders?
THINKING ACTIVITY 8.2: The Order of the Elements
MENTAL ORDERS
THINKING ACTIVITY 8.3: Other Mental Orders
Clarity and Memory
STEPS IN ORGANIZING
1. Clustering
2. Analyzing
THINKING ACTIVITY 8.4: Analyzing the Clusters
3. Prioritizing
4. Organizing Your Space
5. Organizing Electronic Data
USING THE ORDERS
THINKING ACTIVITY 8.5: Creating a Seminal Structural Analogy
Curtain Call
SUMMARY
ORGANIZING CHALLENGES
9 Logical Thinking
DEDUCTIVE THINKING: THE SYLLOGISM
CATEGORICAL SYLLOGISMS
Three Kinds of Propositions
Four Figures
THINKING ACTIVITY 9.1: Drawing the Conclusion
THINKING ACTIVITY 9.2: Finding Terms and Figures
Validity of Categorical Syllogisms
THINKING ACTIVITY 9.3: Identifying Valid Categorical Syllogisms
THINKING ACTIVITY 9.4: Using Venn Diagrams
ENTHYMEMES AND SYLLOGISMS IN EVERYDAY LIFE
Sorites
THINKING ACTIVITY 9.5: Finding Multiple Syllogisms and False Premises
REASONING ERRORS IN CATEGORICAL SYLLOGISMS
Undistributed Middle
Illicit Process
THINKING ACTIVITY 9.6: Finding Undistributed Terms
The Four-Terms Fallacy
Equivocation
Existential Fallacy
BOX: The Importance of Agreed Meaning
RULES FOR THE CATEGORICAL SYLLOGISM
THINKING ACTIVITY 9.7: Identifying Invalid Syllogisms
HYPOTHETICAL SYLLOGISMS
Reasoning Errors in Hypothetical Syllogisms
DISJUNCTIVE SYLLOGISMS
Reasoning Error in the Disjunctive Syllogism
VALID CONVERSIONS
THINKING ACTIVITY 9.8: Writing Valid Conversions
INFORMAL DEDUCTIVE FALLACIES
The Fallacy of Division
Circular Reasoning
The Either/Or Fallacy
THINKING ACTIVITY 9.9: Identifying the Either/Or Fallacy
BOX: Reductio ad Absurdum
INDUCTIVE THINKING
THINKING ACTIVITY 9.10: Distinguishing Between Inductive
and Deductive Arguments
THINKING ACTIVITY 9.11: Considering Past Errors
ANALOGICAL ARGUMENT
BOX: Chuang Tzu's Analogies
THINKING ACTIVITY 9.12: Using Analogies
CAUSATION
THINKING ACTIVITY 9.13: Thinking About Causation
INFORMAL INDUCTIVE FALLACIES
Hasty Generalization
The Fallacy of Composition
Post Hoc Ergo Propter Hoc
Extravagant Hypothesis
BOX: Conspiracy Theories
False Analogy
Slippery Slope
OTHER REASONING FALLACIES
The Genetic Fallacy
Appeal to Authority
Appeal to Tradition
The Is/Ought Fallacy
BOX: More Thoughts About Oughts
Bandwagon Appeal
Appeal to Ignorance
SUMMARY
LOGIC CHALLENGES
10 Scientific Thinking
THE SCIENTIFIC METHOD
Observation
Hypothesis
Experimentation
Verification
Science and Other Ways of Knowing
BOX: Copernicus and Galileo
THE EMPIRICAL NATURE OF SCIENCE
Erroneous Operational Definitions
Operational Debates
The Limits of Science
THINKING ACTIVITY 10.1: Creating Operational Definitions
THINKING ACTIVITY 10.2: The Domain of Science
SCIENCE AND THE UNDERSTANDING OF HUMAN NATURE
Determinism as Foundation
Human Beings and Determinism
BOX: Determinism and Probability
PROVING A THEORY
CONTROLLED EXPERIMENTS
QUASI EXPERIMENTAL DESIGN
NONEXPERIMENTAL DESIGNS
Ex Post Facto
Correlational Design
THINKING ACTIVITY 10.3: Determining the Research Design
The Survey
BOX: Opinion versus Fact
Case Studies
The Rule of Chance
BOX: Sizeable Effects
BOX: Gambler's Fallacy
EXPERIMENTER BIAS
BOX: The Placebo Effect
BOX: Cases of Fraud
Pseudoscience
SUMMARY
SCIENTIFIC THINKING CHALLENGES
11 Persuasive Thinking
WHAT IS PERSUASION?
THE ETHICS OF PERSUASION
THINKING ABOUT WHAT MOVES US
Knowledge
Objectivity and Honesty
BOX: Confucius, Christ, and Kant
Biases
Likability
Motivation and Purpose
The Rational Appeal
The Emotional Appeal: The Root Elements
THINKING ABOUT WHAT MOVES OUR AUDIENCE
Demographics
THINKING ACTIVITY 11.1: A Demographic Analysis
Values and Needs
THINKING ACTIVITY 11.2: Identifying Values and Needs
Adjusting Our Goals
THINKING ACTIVITY 11.3: Motivation Mountain
ORGANIZING FOR PERSUASION
Step 1: Establishing Credibility
Step 2: Acknowledging the Audience's Position
Step 3: Constructing Our Rationale
THINKING ACTIVITY 11.4: Recognizing the Other Side
Step 4: Transplanting the Root Elements
Step 5: Asking for the Response
DEFENDING OURSELVES AGAINST DECEITFUL PERSUASION
Manipulative Tactics
THINKING ACTIVITY 11.5: Your Vulnerability to Fear Appeals
Erroneous Attacks
Abuse of Language
SUMMARY
PERSUASION CHALLENGES
12 Problem Solving
DEFINING THE PROBLEM
Thinking Activity 12.1: Forming More Precise Definitions
Discovering Causes
Problems Without a Cause
REMOVING BARRIERS
The Myth of Perfection
The Myth of Genius
GENERATING SOLUTIONS
Gathering Information
THINKING ACTIVITY 12.2: Identifying Problem Components
BOX: Creating a Healthy Communication Climate
Creative Thinking
Let it Rest
THINKING ACTIVITY 12.3: Functional Fixedness
SELECTING SOLUTIONS
Preliminary Evaluation
BOX: Chaotic Systems
Pros and Cons
BOX: Rejections on Minor Grounds
THINKING ACTIVITY 12.4: Weighing Pros and Cons
Subgoal Analysis
Trial and Error
Working Backwards
BOX: Thinking Backwards
Problem-Solving Tips
EVALUATING SOLUTIONS
SUMMARY
PROBLEM-SOLVING CHALLENGES
13 Evaluating
THE NECESSITY TO TEST THINKING
The Crucible of Critical Dialogue
THINKING ACTIVITY 13.1: Using Dialogue
Critical Monologue
The Elegance of Simplicity
The Flattery of Imitation and Development
The Power of Predictability
Perspective, Balance, and Completeness
The Test of Time
THINKING ACTIVITY 13.2: Does Time Always Test True?
TESTING AGAINST OUR THINKING BASES
Personal Barriers
Perceptions and Memory
Language
Feelings
Creativity Check
Organization
Logic Check
THINKING ACTIVITY 13.3: Our Tone Toward Our Thinking
SUMMARY
VALIDATING CHALLENGES
14 Decision and Action
WHY ACT?
DECISION
Difficulties in Deciding
How to Decide
BOX: Changing Criteria: Putting on the Gloves
THINKING ACTIVITY 14.1: Feelings and Decisions
THINKING ACTIVITY 14.2: Role-Playing
When to Decide
The Deciding Moment
ACTION
AFTER ACTION
SUMMARY
DECISION AND ACTION CHALLENGES
15 The Challenge to Go on Thinking
Appendix: Propositional Logic
References
Index

Purchase Info ?
With CourseSmart eTextbooks and eResources, you save up to 60% off the price of new print textbooks, and can switch between studying online or offline to suit your needs.
Once you have purchased your eTextbooks and added them to your CourseSmart bookshelf, you can access them anytime, anywhere.
Buy Access
Thinking, CourseSmart eTextbook, 4th Edition
Format: Safari Book
$34.99 | ISBN-13: 978-0-13-220976-2