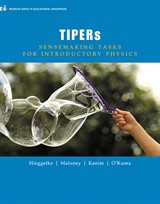 Description
TIPERs: Sensemaking Tasks for Introductory Physics gives introductory physics students the type of practice they need to promote a conceptual understanding of problem solving. This supplementary text helps students to connect the physical rules of the universe with the mathematical tools used to express them.
The exercises in this workbook are intended to promote sensemaking. The various formats of the questions are difficult to solve just by using physics equations as formulas. Students will need to develop a solid qualitative understanding of the concepts, principles, and relationships in physics. In addition, they will have to decide what is relevant and what isn't, which equations apply and which don't, and what the equations tell one about physical situations.
The goal is that when students are given a physics problem where they are asked solve for an unknown quantity, they will understand the physics of the problem in addition to finding the answer.
Table of Contents
Table of Contents
Vectors
Motion in One Dimension
Motion in Two Dimensions
Newton's Laws
Work and Energy
Momentum and Impulse
Rotation
Oscillatory Motion
Density
Fluids
Heat and Temperature
Electrostatics
Circuits
Magnetism
Waves
Optics
Sound
Modern Physics
This title is also sold in the various packages listed below. Before purchasing one of these packages, speak with your professor about which one will help you be successful in your course.
Package ISBN-13: 9780134180632
Includes this title packaged with:
College Physics, 10th Edition
Hugh D. Young, Philip W. Adams, Raymond Joseph Chastain
MasteringPhysics with Pearson eText -- ValuePack Access Card -- for College Physics, 10th Edition
Hugh D. Young, Philip W. Adams, Raymond Joseph Chastain
$353.07 | Add to Cart
Purchase Info
ISBN-10: 0-13-285458-9
ISBN-13: 978-0-13-285458-0
Format: Book
$48.80
We're temporarily out of stock, but order now and we'll send it to you later.
Back Order