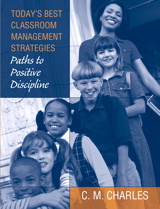 Description
This text presents ten proven strategies that enable teachers to develop and implement high quality systems of classroom discipline that increase student responsibility and ethical behavior.
The contents of the text are organized to address two major tasks that lead to highly effective discipline. The first task, which is addressed before the year or term begins and put in place during the first week, involves initial implementation of an effective system of discipline to begin the year or term. Strategies within this first task include:
1. Organizing and putting in place a comprehensive, empowering approach to discipline that optimizes student success and personal growth.
2. Determining proactively how to reduce the likelihood of misbehavior in the classroom.
3. Clarifying and teaching in detail how students are to conduct themselves with routines they are to follow when engaging in class activities.
4. Establishing procedures and activities that promote trust and civility in the classroom.
5. Clarifying tactics to be used when students misbehave–tactics that a) stop the misbehavior, b) help students learn to behave in a responsible manner that brings success, and c) maintain and promote positive attitudes, cooperation, and effective personal relations.
The second task, accomplished over time after school begins, involves working with students and their parents and guardians to progressively enhance the discipline program. Strategies for accomplishing this task include:
6. Bringing instruction and discipline tactics into alignment with students' traits, needs, interests, and social, cultural, and economic realities.
7. Establishing a sense of togetherness among members of the class, with attention to safety, belonging, cooperation, and mutual support.
8. Increasing the quality of communication and personal relationships among teacher, students, and parents/guardians.
9. Providing on-going assistance to help students develop an internal sense of personal responsibility.
10. Developing and using special discipline tactics that help students with neurological based behavior prosper in school.
Table of Contents
Preface
Stragegy 1. Optimizing Student Success
Developing and Implementing a Comprehensive, Optimizing Approach to Classroom Discipline
Developing a Personal System of Discipline
Five Guiding Principles in Building a Personal System of Discipline
Notes on Professionalism, Ethics, and Legalities
On-Going Attention to the Five Principles
Three Contributions from Preservice Teachers
Two Sample Plans from Teachers In Service
Consultant: Barbara Coloroso on the Purpose and Practice of Discipline
In Summary
References
Strategy 2. Preventing Misbehavior
Taking Proactive Steps to Prevent the Occurrence of Misbehavior in the Classroom
Chapter Preview
Definitions of Misbehavior
Types of Misbehavior
Causes of Misbehavior and What to Do about Them
Causes of Misbehavior that Reside in Individual Students
Causes of Misbehavior that Reside in Class Peers and Groups
Causes of Misbehavior that Reside in Instructional Environments
Causes of Misbehavior that Reside in Teachers and Other School Personnel
Recognizing and Correcting Teacher Misbehavior
Consultant: C. M. Charles on Preventing Misbehavior through Synergetic Teaching
In Summary
References
Strategy 3. Clarifying Expectations
Explicitly Teaching Students How They Are Expected to Conduct Themselves in the Classroom
Chapter Preview
Clarifying Behavior Expectations for your Class
C. M. Charles on the Teacher/Student Cooperative Approach
Consultant: Ronald Morrish on the Teacher-Structured Approach
Consultant: Harry K. Wong on Classroom Procedures
A Sample of Wong's Advice
The First Five Minutes are Critical
How to Establish Procedures for Your Classroom
Classroom Procedures Must Be Taught
About Classrooms, Teachers, and Procedures
About Roles and Responsibilities
About Discipline
More about the First Day
About The First Week of Teaching
In Summary
References
Strategy 4. Establishing Trust and Civility
Establishing and Maintaining an Atmosphere of Trust and Civility in your Classroom
Chapter Preview
The Meaning and Importance of Trust in the Classroom
Ethical Principles that Promote Trust
The Meaning and Importance of Civility in the Classroom
Consultant: P. M. Forni on Civility and Considerate Behavior
Consultant: Michele Borba on Developing Moral Intelligence
The Nature of Moral Intelligence
The Seven Virtues of Goodness
Why Building Moral Intelligence is Worth the Effort
Teaching Moral Intelligence in the Schools
The Relation of Moral Intelligence to Classroom Discipline
The Patient Teacher
In Summary
References
Strategy 5. Intervening Positively
Dealing with Misbehavior in a Positive and Productive Manner that Maintains Student Cooperation and Preserves Good Relationships
Chapter Preview
Normal Tactics for Use at the Moment of Disruption
Suggestions from Haim Ginott
Suggestions from Linda Albert
Suggestions from William Glasser
Suggestions from Marvin Marshall
Suggestions from Barbara Coloroso
Suggestions from Spencer Kagan
Suggestions from Ronald Morrish
Suggestions from C. M. Charles
Suggestions from Michele Borba
Suggestions from Ed Ford
Tactics for Use with Students who are More Difficult to Manage
Richard Curwin and Allen Mendler on At-Risk Students
Marvin Marshall on Working with Disaffected Teenagers
Barbara Coloroso on Dealing with Bullying and Hate Crimes
In Summary
References
Strategy 6. Adjusting Instruction
Teaching in a 'Quality' Manner, with the Instructional Program Aligned with Students' Traits, Needs, and Interests.
Chapter Preview
Performance Goals for Quality Instruction
Methods of Teaching that Produce the Results You Want
Aligning Instruction with Student Characteristics
General Traits of Students at Four Points in School
Student Needs that Affect Behavior
Value Systems as They Affect Education
Information about Middle Class Caucasian-American Students
Information about Hispanic American Students
Information about African American Students
Information about Asian American and Pacific Islander Students
Information about American Indian/Alaska Native Students
Information about Recently-Arrived Immigrant Students
Information about Economically Disadvantaged Students
General Suggestions for Working with Students from all Ethnic and Economic Groups
In Summary
References
Strategy 7. Fostering a Sense of Togetherness
Developing a Sense of Togetherness among Members of the Class, with Emphasis on Safety, Belonging, Cooperation, and Mutual Support.
Chapter Preview
Part 1. Classrooms as Communities
Consultant: Alfie Kohn on Classrooms as Communities
Establishing Behavior Standards in Cooperative Classrooms
Resolving Behavior Issues in Cooperative Class Communities
Consultant: Spencer Kagan on Teacher-Student Cooperation in Discipline
Part 2. Class Meetings as a Regular Part of the Curriculum
Consultants: Jane Nelsen and Lynn Lott on Organizing and Using Class Meetings
Part 3. Connecting with Students and Conducting Cooperative Learning
Consultant: William Glasser on How Teachers Can Connect with Students
Part 4. Formalized Cooperative Learning
Roger Johnson and David Johnson on Cooperative Learning
In Summary
References
Strategy 8. Improving Relationships and Communication
Working toward Positive Relationships and Effective Communication among Teacher, Students, and Parents and Guardians
Chapter Preview
Enhancing Personal Relations
Fundamental Skills in Human Relations
Giving Students Personal Attention
Discussing Students' Opinions about the Class
Jane Nelsen and Lynn Lott on the Use of Relationship Builders
Introducing and Practicing Skills of Human Relations
Human Relations in the Primary Grades
Enhancing Communication
Haim Ginott on Congruent Communication
Stephen Covey on Empathetic Listening
Thomas Gordon on Removing Roadblocks to Communication
Why You Should Not Argue With Students
A Brief Self-Appraisal Guide Concerning Student Involvement
Communicating with Students' Parents and Guardians
In Summary
References
Strategy 9. Developing Responsibility
Helping Students Develop an Internal Sense of Responsibility.
Chapter Preview
Developing Responsibility in School
Consultant: Ed Ford on the Responsible Thinking Process (RTP)®
Nature of the Responsible Thinking Process
The Teacher's Role in the Responsible Thinking Process
How Respect is Taught in the Responsible Thinking Process
The Questioning Sequence in the Responsible Thinking Approach
Consultant: Marvin Marshall on Raising Student Responsibility
Nature of the Raise Responsibility System
Moving Toward Responsible Behavior
The Hierarchy of Social Development, Its Value, and How It Is Used
Focus on Internal Motivation
25 Tactics to Stimulate Students to Behave Responsibly
How to Intervene when Misbehavior Occurs
In Summary
References
Strategy 10: Using Special Tactics
Using Special Discipline Tactics to Help Students with Neurological Based Behavior
Chapter Preview
The Meaning, Effects, and Incidence of Neurological Based Behavior
Tactics for Teachers
Dave Hingsburger on Power and Mindset
Marvin Marshall on the Value of Positive Images
Joyce Pickering on Teaching Self-Control
Attention Deficit Hyperactivity Disorder (ADHD): Nature and Incidence
Tom Daly on Discipline for Students with ADHD
Sensory Processing Disorder: Nature and Incidence
Michele Mitchell on Discipline for Students with Sensory Processing Disorder
Paula Cook on Dealing with Student Rage
The Nature of Rage
The Rage Cycle and its Phases
In Summary
References
Bibliography