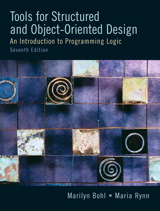 Description
For courses in Problem Solving/Programming Logic and Programming Concepts and Logic.
Using a concept-oriented, language-independent approach, Tools for Structured and Object-Oriented Design explores and illustrates introductory programming concepts and problem-solving tools. The text's three-part structure is supported by an exceptionally clear narrative and a host of step-by-step examples, sample problems, enrichment sections, and exercises.
The password protected Instructor's Resource Center includes:
Test files for all chapters (Multiple Choice/True-False)

Instructor's Manual (Objectives, Teaching Strategies, Key Terms, Answers to end-of-chapter exercises)

Source Code

Power Point Lecture Slides
For more information please go to www.prenhall.com/bohl-rynn
Table of Contents
CONTENTS
PART ONE. STRUCTURED PROGRAMMING CONCEPTS.
1. Introduction to Structured Design.
2. SIMPLE SEQUENCE Control Structure.
3. IFTHENELSE Control Structure.
4. DOWHILE Control Structure–Counter-Controlled Loops.
5. DOWHILE Control Structure–Trailer Record Logic.
6. Modularization.
7. CASE Control Structure.
8. DOUNTIL Control Structure.
9. Introduction to Arrays.
PART TWO. OBJECT-ORIENTED PROGRAMMING CONCEPTS.
10. Introduction to Object-Oriented Design.
11. Inheritance.
12. Other Class and Object Relationships.
PART THREE. APPLICATIONS.
13. Array Applications.
14. Master File Update Processing.
15. Control-Break Processing.
Appendix A: Program Flowcharting Symbols.
Appendix B: Structured-Programming Control Structures.
Appendix C: Answers to Selected Exercises.
Appendix C: Correlation Guide
Index.
Purchase Info ?
With CourseSmart eTextbooks and eResources, you save up to 60% off the price of new print textbooks, and can switch between studying online or offline to suit your needs.
Once you have purchased your eTextbooks and added them to your CourseSmart bookshelf, you can access them anytime, anywhere.
Buy Access
Tools for Structured and Object-Oriented Design, CourseSmart eTextbook
Format: Safari Book
$68.99 | ISBN-13: 978-0-13-601457-7