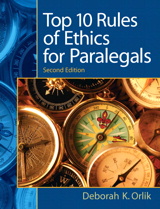 Description
For courses in ethics for paralegals, legal assistants, or legal secretaries at the undergraduate level. Also appropriate as a supplement in an Introduction to Law course or an in-house training program.
Top Ten Rules for Paralegals provides an upbeat approach to understanding professional responsibility in the field of law. Using a straightforward style, it discusses common ethical issues in the real world of law and asks students to reflect on their own personal beliefs. With a focus on research, it encourages students to find the Rules of Professional Conduct for their own state and think critically about ethical issues with those rules in mind. This edition also includes new research assignments that reinforce how to find answers to ethical questions and deal with issues on the job.
Table of Contents
RULE 1: HAVE INTEGRITY
RULE 2: PRESERVE THE CONFIDENCES AND SECRETS OF THE CLIENT
RULE 3: GET AND STAY COMPETENT
RULE 4: CHARGE ONLY FAIR FEES
RULE 5: MAKE LEGAL SERVICES AVAILABLE
RULE 6: REPRESENT EACH CLIENT WITH ZEAL AND DEDICATION WITHIN THE BOUNDS OF THE LAW
RULE 7: DON'T PRACTICE LAW WITHOUT A LICENSE
RULE 8: BE LOYAL TO EACH AND EVERY CLIENT
RULE 9: WORK TO IMPROVE THE LEGAL SYSTEM
RULE 10: DON'T EVEN THINK ABOUT IT
Purchase Info ?
With CourseSmart eTextbooks and eResources, you save up to 60% off the price of new print textbooks, and can switch between studying online or offline to suit your needs.
Once you have purchased your eTextbooks and added them to your CourseSmart bookshelf, you can access them anytime, anywhere.
Buy Access
Top 10 Rules of Ethics for Paralegals, CourseSmart eTextbook, 2nd Edition
Format: Safari Book
$19.99 | ISBN-13: 978-0-13-506631-7