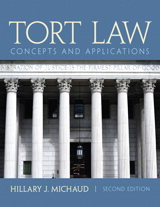 Description
Tort Law Concepts and Applications, 2e provides the most comprehensive coverage of substantive American tort law available. This edition features two chapters devoted to intentional torts, two chapters devoted to negligence, and references to the latest cases and statutes. To help students develop in-demand paralegal skills, there are extensive end-of-chapter exercises, online video cases, and an entire chapter devoted to tort practice and applications.
Table of Contents
1. Introduction to Tort law
2. Tort Liability
3. Intentional Torts against Persons
4. Intentional Torts against Property and Intentional Torts against Commercial Interests
5. Intentional Torts: Defenses and Remedies
6. Negligence: An Introduction, and the Elements of Duty of Care and Breach
7. Negligence: The Elements of Causation and Damages, Plus Other Negligence-Related Topics
8. Survival, Wrongful Death, and Wrongful Birth and Life
9. Defenses to Negligence and Remedies
10. Introduction to Strict Liability; Harm Caused by Animals and other Abnormally Dangerous Conditions or Activities
11. Products Liability
12. Strict Liability Defenses and Remedies
13. Defamation and Disparagement
14. Invasion of Privacy
Tort Practice and Applications
These online resources are available at no cost.
Student Resource Website with Video Cases for Tort Law: Concepts and Applications, 2nd Edition