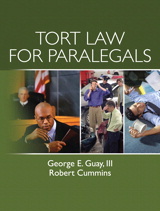 Description
For courses in Tort Law.
Unique in perspective, this book explores tort law within the context of the litigation process. Going beyond many competing books, it defines each tort and breaks it down into its essential elements so students begin to understand how to analyze a problem of law. Significant treatment is given to negligence and a full chapter is devoted to business related torts. Filled with illustrative cases and hypothetical scenarios, it focuses more on application instead of memorization–giving students a firm understanding of torts within the context of legal practice.
Table of Contents
Table of Contents
1. Foundations of Tort Law
2. Litigating a Cause of Action in Tort Law
3. The Tort of Negligence
4. Proof of Negligence
5. Defenses to Negligence
6. Premises Liability
7. Intentional Torts
8. Misrepresentation, Interference with Economic Relations and Other Business-Related Torts
9. Tort Actions in Nuisance
10. Defenses to Intentional Torts
11. Privilege and Immunity
12. Strict Liability
13. Product Liability
14. Vicarious Liability
Purchase Info ?
With CourseSmart eTextbooks and eResources, you save up to 60% off the price of new print textbooks, and can switch between studying online or offline to suit your needs.
Once you have purchased your eTextbooks and added them to your CourseSmart bookshelf, you can access them anytime, anywhere.
Buy Access
Tort Law for Paralegals, CourseSmart eTextbook
Format: Safari Book
$62.99 | ISBN-13: 978-0-13-208252-5