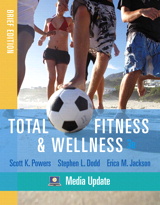 Description
Thoroughly revised and updated, Total Fitness & Wellness provides a solid foundation in fitness and lifetime wellness, while teaching you how to make healthy behavioral changes and lifestyle choices. For a more focused presentation on fitness, the Brief Edition includes Chapters 1-10 and 16 from the big book, so you can get the basics on fitness, nutrition, cardiovascular disease and stress management. The Media Update features an extensively revised Companion Website with over 80 new exercise videos, ABC News videos, RSS feeds, flashcards, electronic versions of labs and self-assessments, and electronic versions of the Behavior Change Worksheets. The new MyFitnessLab™ features the same updates as the website, as well as Pearson eText with live links, audio clips, and electronic versions of the Eat Right! and Live Right! booklets.

Table of Contents
1. Understanding Fitness and Wellness
2. General Principles of Exercise for Health and Fitness
3. Cardiorespiratory Endurance: Assessment and Prescription
4. Improving Muscular Strength and Endurance
5. Improving Flexibility
6. Body Composition
7. Nutrition, Health, and Fitness
8. Exercise, Diet, and Weight Control
9. Preventing Cardiovascular Disease
10. Stress Management
11. Life Time Fitness and Wellness
The Powers/Dodd, Total Fitness & Wellness, Brief Third Edition Media Update (0-321-66782-4) includes eleven total chapters consisting of Chapters 1-10 and 16 of the Fifth Edition Media Update.