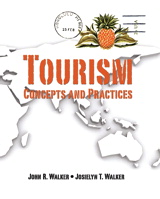 Description
For courses in Tourism.
Capturing the taste of the industry, Tourism: Concepts and Practices explores this exciting field using a systems approach. Building on the author's experience, it looks at the characteristics of tourism and the demand side first, then organizing tourism, followed by the operating sectors. Full-color photographs, industry profiles, and a career emphasis reveal the opportunities tourism holds for both consumers and professionals. Special geography spotlights examine the reasons people travel and the places people go.
Table of Contents
PART I: THE CHARACTERISTICS OF TOURISM
1. Tourism Introduction, Past and Present Tourism
2. Motivation for Leisure Travel
3. Tourism Marketing
4. Tourism Economics
PART II: ORGANIZING TOURISM
5. Tourism Organizations and Policy
6. Tourism Planning and Sustainable Development
7. Tourism Research
PART III: OPERATING SECTORS 1
8. Attractions and Entertainment
9. Conventions, meetings and Expositions
PART IV: SOCIAL, CULTURAL, HERITAGE AND ECOTOURISM
10. Tourism Sociology
11. Cultural and Heritage Tourism
12. Ecotourism
PART V: OPERATING SECTIONS 2
13. Distribution Organizations
14. Transportation
15. Lodging and Restaurants
16. Tourism in the Future
Purchase Info ?
With CourseSmart eTextbooks and eResources, you save up to 60% off the price of new print textbooks, and can switch between studying online or offline to suit your needs.
Once you have purchased your eTextbooks and added them to your CourseSmart bookshelf, you can access them anytime, anywhere.
Buy Access
Tourism: Concepts and Practices, CourseSmart eTextbook
Format: Safari Book
$56.99 | ISBN-13: 978-0-13-508531-8