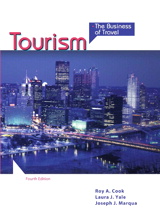 Description
For courses in Tourism and/or Hospitality.
Written in a conversational style, this book views the industry from a business perspective–examining the management, marketing and finance issues most important to industry members. Chapters reveal an integrated model of tourism and address consumer behavior, service quality and personal selling. Readings and integrative cases close each part and end-of-chapter exercises offer application activities for students. This edition includes new chapters on technological innovations and sustainability issues and offers a view of today's tourism industry that is as interesting and multi-faceted as the field itself.
Table of Contents
Table of Contents
part i: The Traveling Public and Tourism Promoters
1. Introducing the World's Largest Industry, Tourism
2. Marketing to the Traveling Public
3. Delivering Quality Tourism Services
4. Bringing Travelers and Tourism Service Suppliers Together
5. Capturing Technologies' Competitive Advantages
Readings
Integrative Cases
part ii: Tourism Service Suppliers
6. Transportation
7. Accommodations
8. Food and Beverage
9. Attractions and Entertainment
10. Destinations
Readings
Integrative Cases
Part iii: The Service and Hospitality Environment
11. Economic and Political Impacts of Tourism
12. Environmental and Social/Cultural Impacts of Tourism
13. Sustaining Tourism's Benefits
14. Exploring the Future of Tourism
Readings
Integrative Cases
Appendix A: Geography: Your Window to the World
Appendix B: Tourism Research
Appendix C: Choosing a Career and Finding a Job
Purchase Info ?
With CourseSmart eTextbooks and eResources, you save up to 60% off the price of new print textbooks, and can switch between studying online or offline to suit your needs.
Once you have purchased your eTextbooks and added them to your CourseSmart bookshelf, you can access them anytime, anywhere.
Buy Access
Tourism: The Business of Travel, CourseSmart eTextbook, 4th Edition
Format: Safari Book
$62.99 | ISBN-13: 978-0-13-504564-0