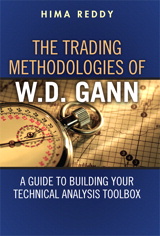 Description
W.D. Gann's works helped to pioneer the discipline of technical analysis, and they still offer immense potential value to investors and traders. However, Gann's original publications are esoteric and can be challenging to read and use. In this book, long-time trader and expert technical analyst Hima Reddy brings these works to life for modern traders and investors. She distills Gann's tenets into crystal-clear, bite-size explanations, and illuminates them with exceptionally intuitive charts and illustrations. Drawing on extensive personal experience, Reddy explains how Gann's insights into price, pattern and time can be applied in all types of markets and market conditions. Using this book, any experienced trader can discover the value of Gann's approach, and start utilizing it in his or her own trades. Then, with Reddy's discussion as a foundation, traders and investors can delve even more deeply into all of Gann's works, identifying even greater opportunities for profit.
Table of Contents
Foreword xv

Preface xvii

Chapter 1 The Work of W.D. Gann 1
Market Predictions 1
Publications 3
Focus of This Book 5
Trading Rules 6

Chapter 2 Elements of the Market 9
Basic Market Movement 9
Price Is King 10
Patterns Repeat 11
The Construct of Time 20

Chapter 3 Interpreting the Market 27
Gann's View of Price Movement 27
Projections Based on Existing Price Movement 32

Chapter 4 Trading the Market 39
Exceeding Moves in Time 41
Triple Bottoms/Tops 49
Double Bottoms/Tops 57
Exceeding Moves in Price 63
Buy Old Tops/Sell Old Bottoms 69
Rapid Moves 74
Trading Ranges 80

Chapter 5 Application of Gann's Principles 85
Gann's Favorite Numbers 85
Gann's Principles Applied Outside of Price 95
The Importance of the Closing Price 108

Chapter 6 Trade and Capital Management 119
Risk Assessment 120
Placement of Orders 123
Trade Initiation 126
Management of Trade 127
Trade Exit 135
Review 136

Chapter 7 Bringing It All Together 139
Exploring Gann's Examples 139
Rigid Rules, Flexible Observation 150

Chapter 8 Beyond Trading Basics 155
Looking to the Left of the Chart 155
Recommended Reading 160
Obtaining Charts 161
Gann's Writing Style and References 162
A Study "Partner"—an Invaluable Tool 167
The End...of the Beginning 170

Appendix A Gann's 28 Trading Rules 173
Appendix B Affirmative Versions of Gann's 28 Rules 177
Appendix C Gann's Buying and Selling Points 181
Appendix D Gann's Soybean Chart 185
Appendix E Google, Inc. (GOOG) Highs and Lows by Calendar Month 187

Index 189


Purchase Info
ISBN-10: 0-13-273441-9
ISBN-13: 978-0-13-273441-7
Format: Safari PTG
This publication is not currently for sale.