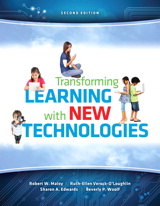 Description
Note: The Enhanced eText features are only available in the Pearson eText format. They are not available in third-party eTexts or downloads, such as CourseSmart.
Show pre-service teachers how new technologies and Web 2.0 tools can change the nature of K-12 schools by generating highly interactive, inquiry-based teaching and learning experiences at all grade levels.
Understanding that 21st century learning" means that teachers prepare, deliver, and assess lessons differently while students think critically and creatively about the learning they do and the technologies they use. For pre-service teachers, a 21st century approach to educational technology entails understanding what interactive technologies can do and how to use them to create engaging, memorable learning experiences for students. This exciting newcomer to the educational technology market in its first edition, the Second Edition includes the latest technologies and trends that are making education a more dynamic and global teaching and learning experience.
Table of Contents
1 Becoming a 21st Century Teacher  
2 Understanding Educational Technology Issues and Trends
3 Transforming Learning with Unique, Powerful Technology  
4 Designing Lessons and Developing Curriculum with Technology
5 Teaching Information Literacy and Digital Citizenship  
6 Fostering Online Learning with Educational Websites and Apps 
7 Exploring Problem Solving and Inquiry Learning with Software, Apps, and Games  
8 Communicating and Collaborating with Social Media  
9 Expressing Creativity with Multimedia Technologies  
10 Promoting Success for All Students through Technology  
11 Engaging Students in Performance Assessment and Reflective Learning 
12 Integrating Technology and Creating Change as Teacher Leaders  
Purchase Info ?
With CourseSmart eTextbooks and eResources, you save up to 60% off the price of new print textbooks, and can switch between studying online or offline to suit your needs.
Once you have purchased your eTextbooks and added them to your CourseSmart bookshelf, you can access them anytime, anywhere.
Buy Access
Transforming Learning with New Technologies, CourseSmart eTextbook, 2nd Edition
Format: Safari Book
$56.99 | ISBN-13: 978-0-13-315575-4