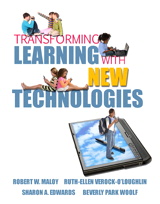 Description
Organized by learning goals for teachers and students, responsive to ISTE newest standards, and designed to foster interactivity, Transforming Learning with New Technologies models how to plan lessons that integrate computers, Internet-based technologies, and emerging Web 2.0 tools to transform teaching and learning across the K-12 curriculum.
This brief, practical full-color text introduces teachers to the multiple ways that technology integration can lead to highly interactive, inquiry-based teaching and learning experiences. While guiding teachers to incorporate technology into every aspect of their professional work and classroom instruction, including lesson planning, student assessment, curriculum development, academic research, and professional networking, the text highlights more than 70 free (or low-cost), easy-to-use computer and Internet technologies to achieve their goals. The highly-lauded Technology Transformation Lesson Plans provide examples across grade levels and subject areas that demonstrate how technology transforms lessons by showing minimal technology use juxtaposed with fully-infused technology options that align to learning goals of each lesson.
The text's interactive learning experiences for readers offer thought-provoking questions, lesson plan templates, vignettes, and links to assignments on MyEducationKit*, Pearson's premiere online resource with video, tutorials, podcasts, rubrics and checklists, web activities, practice tests, and activities to build teaching skills and dispositions.
*MyEducationKit is not included and must be purchased seperately. To purchase MyEducationKit please visit www.myeducationkit.com.
Table of Contents
Part One: Inspiring Student Learning with Technology
Chapter 1: Becoming an e-Teacher
Chapter 2: Transforming Learning with Unique, Powerful Technology
Chapter 3: Developing Lessons with Technology
Chapter 4: Integrating Technology and Creating Change
Part Two: Engaging Learners with Digital Tools
Chapter 5: Researching and Evaluating Internet Information
Chapter 6: Teaching with Educational Websites and Other Online Resources
Chapter 7: Problem Solving and Inquiry Learning with Software and Web Tools
Chapter 8: Communicating and Networking with Websites, Blogs, Wikis, and More
Chapter 9: Creating and Sharing Information with Multimedia Technologies
Chapter 10: Promoting Success for All Students Through Technology
Chapter 11: Engaging Teachers and Students in Learning and Self-Reflection
Glossary
References
Purchase Info ?
With CourseSmart eTextbooks and eResources, you save up to 60% off the price of new print textbooks, and can switch between studying online or offline to suit your needs.
Once you have purchased your eTextbooks and added them to your CourseSmart bookshelf, you can access them anytime, anywhere.
Buy Access
Transforming Learning with New Technologies, CourseSmart eTextbook
Format: Safari Book
$46.40 | ISBN-13: 978-0-13-501633-6