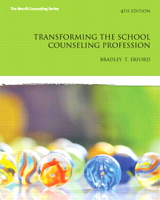 Description
From one of the most respected authors in the field—a revision of the book that is transforming the way thousands of professional school counselors approach their work with students
This book explains in a clear, concise manner how school counselors can effectively intervene systemically and personally on behalf of students, and how systemic, data-driven school counseling programs are effectively implemented through important leadership, advocacy, accountability, and diversity initiatives. School counselors in training get invaluable advice for preparing to enter their careers as a professional school counselors, and experienced professional school counselors and counselor supervisors get new perspectives and detailed descriptions for program development. Important foundational issues in developmental classroom guidance, individual and group counseling, consultation, collaboration and parental involvement, career and educational planning, and ethics and the law are introduced in easy to understand language, and illustrated with examples, case studies, and vignettes.
This updated information in this revision helps readers keep pace with the rapidly changing field by accurately reflecting the changes in practice and in the literature, and by providing direction and leadership for future practice and scholarship.
Table of Contents
Preface
About the Editor
About the Authors
Chapter 1 Transforming the School Counseling Profession: Current Models, Historical Roots and Future Issues
Bradley T. Erford
Chapter 2 The ASCA National Model: Developing a Comprehensive, Developmental School Counseling Program
Bradley T. Erford
Chapter 3 Transformational Thinking in Today's Schools
Patricia J. Martin
Chapter 4 Systemic, Data-Driven School Counseling Practice and Programming for Equity
Vivian V. Lee and Gary E. Goodnough
Chapter 5 Accountability: Assessing Needs, Determining Outcomes, and Evaluating Programs
Bradley T. Erford
Chapter 6 Outcomes Research on School Counseling Interventions and Programs
Susan C. Whiston, Rachel Feldwisch and Barbara James
Chapter 7 Ethical, Legal, and Professional Issues in School Counseling
Lynn Linde
Chapter 8 Culturally Competent School Counselors: Affirming Diversity by Challenging Oppression
Cheryl Holcomb-McCoy and Stuart F. Chen-Hayes
Chapter 9 Leadership and Advocacy for Every Student's Achievement and Opportunity
Stuart F. Chen-Hayes, and Yvette Q. Getch
Chapter 10 Developmental Classroom Guidance
Gary E. Goodnough, Rachelle Pérusse, and Bradley T. Erford
Chapter 11 Academic Development and Planning for College and Career Readiness K-12
Stuart F. Chen-Hayes and Melissa S. Ockerman
Chapter 12 Promoting Career Planning in Schools
Hyoyeon In, Patrick Akos, and Spencer G. Niles
Chapter 13 Counseling Individuals and Groups in School
Bradley T. ErfordBradley T. Erford
Chapter 14 Consultation, Collaboration, and Encouraging Parent Involvement
Bradley T. Erford
Chapter 15 Systemic Approaches to Counseling Students Experiencing Complex and Specialized Problems
Bradley T. Erford, Vivian V. Lee, and Elana Rock
Chapter 16 The Professional School Counselor and Students with Disabilities
Elana Rock and Erin H. Leff
Chapter 17 Helping Students with Mental and Emotional Disorders
Bradley T. Erford
References
Name Index
Purchase Info
Digital Choices ?
MyLab & Mastering with Pearson eText is a complete digital substitute for a print value pack at a lower price.
eTextbook ?
With VitalSource eTextbooks, you save up to 60% off the price of new print textbooks, and can switch between studying online or offline to suit your needs.
Access your course materials on iPad, Android and Kindle devices with VitalSource Bookshelf, the textbook e-reader that helps you read, study and learn brilliantly. Features include:
See all of your eTextbooks at a glance and access them instantly anywhere, anytime from your Bookshelf - no backpack required.
Multiple ways to move between pages and sections including linked Table of Contents and Search make navigating eTextbooks a snap.
Highlight text with one click in your choice of colors. Add notes to highlighted passages. Even subscribe to your classmates' and instructors' highlights and notes to view in your book.
Scale images and text to any size with multi-level zoom without losing page clarity. Customize your page display and reading experience to create a personal learning experience that best suits you.
Print only the pages you need within limits set by publisher
Supports course materials that include rich media and interactivity like videos and quizzes
Easily copy/paste text passages for homework and papers
Supports assistive technologies for accessibility by vision and hearing impaired users