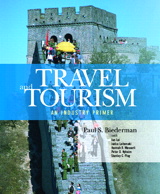 Description
For introductory courses in Travel and Tourism.
Written for a diverse audience, this book explores travel and tourism comprehensively—examining the travel sectors, promotional strategies, economic influences and business principles that govern the industry. Drawing on the experience of the lead author (a former chief economist at Trans World Airlines), it discusses a broad range of introductory topics, the economic fundamentals of each travel sector and basic tools necessary for effective decision-making. Additional contributors provide chapters on destination marketing, sustainable tourism, revenue management and technology. Filled with case studies, industry profiles, and over 200 illustrations, it shows readers the places and principles that comprise the travel and tourism industry today.
Pearson Education is proud to bring world-renowned Dorling Kindersley (DK) products to your classroom. Instantly recognized by their fascinating, full-color photographs and illustrations on every page, DK titles will add meaning to expository text and make learning accessible and, fun. Other DK hallmarks include cross-section views, 3D models, and text to visual call-outs to help readers comprehend and enjoy the wealth of information each book provides. With Pearson, you can see DK in a whole new way! For a complete listing of titles, please visit: http://us.dk.com/pearson
Table of Contents
Table of Contents
PART ONE: THE INTRODUCTORY COURSE
Section One: Getting Acquainted with Travel & Tourism
1. Dimensions of Travel and Tourism
2. An Economic Overview of Travel & Tourism
3. The Psychology of Travel
4. Sustainable Tourism Development
Section Two: The Sectors
5. The Airline Industry
6. The Rail, Motorcoach and Rental Car Industries
7. The Cruiseline Industry
8. Amusement Parks and Other Major Attractions
9. The Gaming Industry
10. Lodging
11. The Food Service Industry
12. Conventions and Meetings
PART TWO: ADVANCED MATERIAL
Section Three: Defining, Promoting and Selling the Product
13. Travel Agents and Tour Operators
14. Distribution Channels
15. Destinations: A Psychographic and Sociological Perspective
Section Four: Conservation and Intervention
16. Ecotourism: Tourism's Green Adventure
17. Government, Politics and Tourism
Section Five: Management Tools
18. Revenue Management: The Art & Science of Maximizing Revenue
19. Measuring the Economic Impact
20. Forecasting
Section Six: What's Next for the Industry?
21. The Future
Purchase Info ?
With CourseSmart eTextbooks and eResources, you save up to 60% off the price of new print textbooks, and can switch between studying online or offline to suit your needs.
Once you have purchased your eTextbooks and added them to your CourseSmart bookshelf, you can access them anytime, anywhere.
Buy Access
Travel and Tourism: An Industry Primer, CourseSmart eTextbook
Format: Safari Book
$56.99 | ISBN-13: 978-0-13-500592-7